In Healing the Sheikh's Heart (Paddington Children's Hospital #5) by Annie O'Neill, Robyn Kelly is determined to impress Sheikh Idris Al Khalil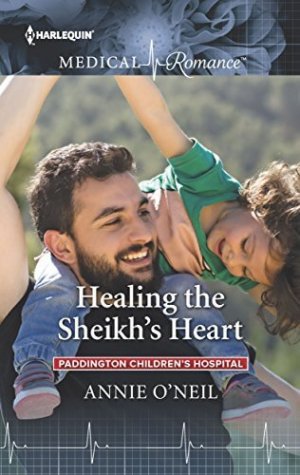 in hopes he'll choose her to perform the surgery he hopes will give his daughter the chance to hear. However, she never imagined she'd fall in love with the brooding billionaire, even though she believes she has nothing to offer him. Will the pair fight for their shot at happy ever after, or will the pain of their pasts keep them apart?
"I feel like a chauffeur with the pair of you sitting back there!"
"We're very busy drawing everything we see," Robyn playfully retorted. "And hadn't you better keep your eyes on the road? Precious cargo and all that!"
What an enthralling read Ms. O'Neill has penned in this fifth story of the Paddington Children's Hospital series, where the stories are all written by various authors, yet focus on a central theme, of those that love the hospital fighting to keep its doors open by any means necessary. Right from the beginning, Ms. O'Neill takes readers on an emotional rollercoaster, as Idris is on a mission to find the perfect surgeon for his daughter. Is the hero having any luck? Will he be able to keep his cool when it appears all the doctors he's meeting only care about the recognition they'll receive because of who they'll be operating on, instead of the patient themselves?
As for the dialogue, it was intense due to the main characters back stories. Both have lost people important to them and Robyn believes she's got nothing to offer Idris. She's been through so much and saving Paddington's is important to her, because the hospital saved her at a critical moment in her life. Will she and her colleagues get their wish to keep Paddington's open? Will Robyn and Idris be able to help each other heal from their painful pasts? However, the dialogue wasn't all intense and I loved the growing bond between Robyn and Idris's daughter. There's absolute trust and affection and I liked how Robyn pushed Idris to not be so overprotective, which is proven by the ventures outside of Idris's home they take.
Both the main characters were wonderful, and I couldn't help but sympathize with them due to their pasts. Idris doesn't know if he'll ever be able to give another woman a chance for fear of losing her, and Robyn has already lost so much too, so she's also afraid. However, in saying that, I'm glad they took a chance, because they definitely help each other to heal from their painful pasts. Moreover, both are strong and brave by facing their fears and I liked how determined and sure of her skills Robyn is in being able to help Idris's daughter. Will the surgery work? I also liked how passionate Robyn is about the hospital and the way she talks about it with Idris. It's almost as if I could feel her enthusiasm alongside her.
"If you're fishing for compliments about your daughter, I can tell you for free, she's exemplary."
"And the rest of your advice?" Idris's lips twitched with something. Pride? Humor? Or another streak of irritability she seemed to have a knack for tapping? "Does that come with a price tag?"
While Idris, he's a great father and I loved that he would do anything for his daughter, even if he didn't fully agree with suggested ventures. I also liked how he talked about his country and how passionate he was when it came to other people seeing the beauty and wonderment of it. Yet, what Iiked most of all is how Idris realized that Robyn is so different to all the other doctors and that she would do anything to give his daughter her wish. Seriously, no one is more dedicated to her job than Robyn.
Overall, Ms. Neil has penned a really good read in this book where the chemistry was strong from the moment Idris and Robyn meet, especially since Robyn is an absolute chatterbox that would do anything to convince Idris that she's the right choice to perform the surgery on his daughter. The way this story ended was delightful and had me crying happy tears because of the effort Robyn takes with her patients and the love she has for Paddington's. However, it was how everything turned out for Idris and Robyn that was absolutely perfect, and I liked how Idris won Robyn's heart. Certainly, the gesture for her to accept being in his life permanently needed to be big. I would recommend Healing the Sheikh's Heart by Annie O'Neill, if you enjoy second chance romances or books by authors Alison Roberts, Fiona Lowe, Karin Baine or Kate Hardy.
Book Info:

Publication: June 1st, 2017 | Harlequin Medical | Paddington Children's Hospital #5
A doctor for the desert king
Brooding billionaire Sheikh Idris Al Khalil wants one thing–the gift of hearing for his daughter, Amira–and he's willing to pay anything to get it! Enter Dr. Robyn Kelly, whose whirlwind approach to life sends his senses into overdrive.
Now, as the tension between Paddington's ENT specialist and the guarded sheikh mounts, Robyn can't help but wonder…is life in the desert with Idris and little Amira the family happy-ever-after she's always dreamed of?