Heart of a Bad Boy by Sugar Jamison: Forced to go back to his hometown for his aunt in the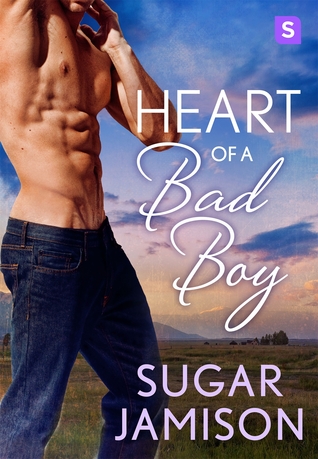 hospital, Levi's only bright spot for the next month is Shelly, his longtime best friend. Cutting all connection to the town, Shelly, the town's quiet and shy schoolteacher, he could never cut loose, even from his fast and loose race car driving, TV star life.
But seeing her in person for the first time since he was fifteen, he can't believe how gorgeous she's gotten. What first was meant to be a fun month in town with his best friend, becomes so much more as neither he nor Shelly can resist the other.
As he pushes Shelly out of her comfort zone, she is his stable place. A total case of opposites attract, a love that began many years ago finally becomes realized even as they try to fight against a love they see as holding no future.
"Oh, baby." He grinned at her. "I like it when you get sassy. But you're not old." He spun her around so she was facing the mirror again and grabbed her dress, pulling the fabric back until she could see the shape of her body. He then ran his hand down her waist, settling on her hip. "Do you see this?"
She let out a slow breath, not thinking it was possible for her body to react so intensely to a simple touch.
"Don't hide this from me."
Levi and Shelly were adorable together. Normally friends to lovers doesn't sit well with me, but Jamison played it perfectly. Their lives may have led them down different, very different, paths, but they were always going to find their way to one another.
I loved that during the story Levi, having spent most of his life as the fun guy, really cared and put effort into becoming his own man apart from his overbearing brothers. And Shelly, the shy cutie, let herself be pushed out of her comfort zone and found a whole life she didn't know was hers for the taking.
The play and conversations between Shelly and Levi was absolutely adorable and sexy. Although the pacing could have definitely been a bit faster, they were a couple I enjoyed following. I highly recommend Heart of a Bad Boy for those who love a great friends to lovers. And, although it's the third in a series, you can read it as a standalone. But you'll definitely want to check out the other two after reading Heart of a Bad Boy.
Book Info:

Publication: May 31, 2016 | SMP, Swerve | Destiny #3
The Bad Boys of Destiny are back and this sexy charmer will stop at nothing to win the heart of the one woman who never let him down.
Shelly Walker was born to be good. Raised by her deeply religious, prison guard father, Shelly was taught that good girls follow the rules—and definitely don't sin. Just as her father announces he's arranging her marriage, Shelly's childhood friend-turned-TV host, Levi King, unexpectedly returns. With his sexy smile and bad boy charm he's the type of guy who has sin written all over him.
Levi has been fond of Shelly since childhood, but when he returns to town, he sees that the delicate girl he knew has turned into a bombshell. Levi encourages Shelly to shake things up, but when Shelly tells him that she's considering obeying her father and starting a family, Levi realizes that being with Shelly means more to him than just a good time. Will Shelly follow the rules or will she take a chance on the bad boy?