In Heir To Scandal (Secrets of Eden #3) by Andrea Laurence, Congressman Xander Langston stable life is about to change when his high school sweetheart re-enter his life and she is not alone in disrupting his life! Xander is shocked to learn he has a son with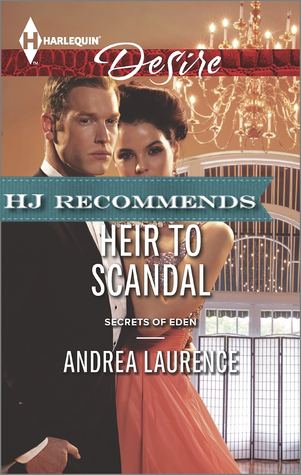 Rose and he is determined to not lose anymore years of his son's life. But accepting his son would be inviting a public scandal. With his re-election campaign in full swing and the danger of another family scandal looming close by–Xander has a difficult choice to make.
Will Xander and Rosie give their love a second chance for the sake of their son or the looming clouds of scandal threaten them apart?
Heir To Scandal by Andrea Laurence is the third part in the Secrets of Eden series. I feel the previous books should be read first to get a better understanding of the story because there are many elements in the story which connect with the previous books.
Scandals and secrets make any romance enjoyable and this book was no exception, I loved the whole concept and the flow of the story. The romance was steamy and the main characters had pretty good chemistry among themselves.  Xander is a mature, responsible and honorable hero whose best quality is that he never runs away from his responsibilities. This is a trait I highly admire and therefore Xander was an absolute treat to read. Rose is a single mother who has tried her best to give her son everything she can. She was a great mother and a sweet person overall.
There is a cliffhanger ending which left me really frustrated and excited for the next book in the series where hopefully everything would be cleared up.
Overall Heir To Scandal by Andrea Laurence is a well written romance and another wonderful addition to the eden series. If you are a fan of this series, this book is a must read.
Book Info:

Published September 2nd 2014 by Harlequin Desire Series #2326 | (Secrets of Eden #3)
"Yes, you have a son."
The past is about to catch up with Congressman Xander Langston…in more ways than one. While his reelection campaign is in full swing, unidentified remains surface on his family's farm and scandal ensues. Yet when he returns home, it's his reunion with Rose Pierce that's consuming all his waking thoughts.
His high school sweetheart has blossomed into a radiant beauty. The thrill of first love that Xander had once dismissed is proving to be a more enduring proposition. But Rose has a secret, too–will it put a stop to their second chance and derail his career for good?