Her Accidental Husband by Ashlee Mallory: Payton is in the airport waiting for her flight to Mexico for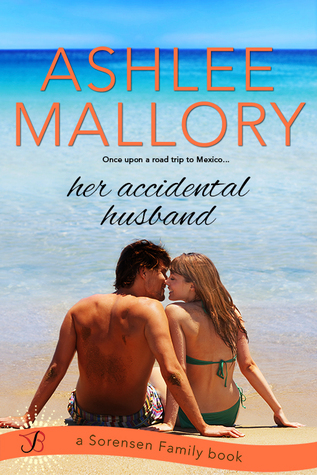 her best friend's wedding, when she not only discovers that the best man, Cruz, has been sent to babysit her, but that her fiancé was cheating on her while he was supposedly on a business trip. Things go from bad to worse when the plane has technical issues in flight, causing an emergency landing with no other flight options to get to the wedding on time. Cruz comes up with the idea to rent a car and drive the rest of the way to Puerto Vallarta.
Cruz wasn't happy when his brother asked him to keep an eye on Payton, and he's even unhappier that he's going to have to spend over a day stuck in a tiny car with her. There was a chemistry between them the moment they originally met, but once he found out she was engaged to the man who stole his high school girlfriend, he was rude to her. She took it in stride, throwing it right back at him.
As the road trip progresses, Cruz is surprised to discover that Payton is more than a rich socialite; she wants to be an environmental lawyer but put her aspirations on hold because of her mother and fiancé. She learns that Cruz is a hard worker but fears he's going to be like her father, who always put his business before his family. The two wind up developing a mutual respect and friendship with one another.
I enjoyed this book, although I felt the ending was a little rushed and some questions weren't answered. For example, after being so controlling over Payton and determined that she get back together with her ex-fiancé, I would have liked to have seen what her mother's reaction was to her relationship with Cruz, but it wasn't shown. I also would have known if Cruz's relationship caused any problems with the ex-fiancé's father and their business deal, considering he asked Cruz to try to convince her to get back together with his son.
Her Accidental Husband is a fun story about a road trip turning into so much more. It was an enjoyable read and I recommend giving it a try.

Book Info:

Publication: October 12, 2015 | Entangled: Bliss | The Sorensen Family #2
Payton Vaughn's trip to Puerto Vallarta for her friend's wedding was her big escape from her ridiculously overbearing mother–oh, and that little matter with her cheating fiancé. Now, her flight's been cancelled, and she's crammed into a tiny car with the gorgeous-but-irritating best man.
Viva la road trip from hell…
Cruz Sorensen doesn't have time to babysit some spoiled socialite, even if she is the future daughter-in-law of the man who could change the fortune of his family's company. He has no business getting to know her better—not even for all the tequila in Mexico…until they wake up with grande-sized hangovers as man and wife.
Now Payton and Cruz must decide if they've reached the end of their journey…or the beginning of a new adventure.