In Her Firefighter Under The Mistletoe by Scarlet Wilson,Paediatric Consultant Jessica Rae is reunited with her childhood sweetheart,Callum Kennedy after 13 years when she is called to a crash scene. Callum is the head of firefighting unit in attendance. The boy she once knew is now a sinfully sexy, life saving firefighter and a single father to a five year old.With so many years behind them,Jessica discovers Callum still makes her heart beat faster-something she thought was never possible again.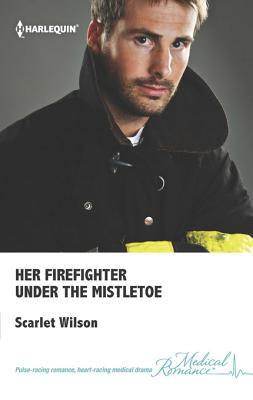 Jessica is exactly what Callum and his son Drew need to complete their broken family but Jessica is unwilling to let go off the past and embrace a new future. It is up to Callum to convince her that they both need each other and it all starts with a kiss..!!
Scarlet Wilson has written an emotional medical romance with a vivid description of very little detail. The story was an emotional ride filled with so many obstacles for the lead characters who came with their own set of baggage due to their sad pasts.
I loved Jessica because she was a very relatable character and nothing stops you from rooting for her. Callum was a sexy firefighter and a single dad who cared so much for Jessica. There is lots of drama and action going on, which keeps the reader hooked. This would have been a stellar read if the focus would have stayed on the protagonists more than Callum's son, Drew. I like the inclusion of children in any story but they should not take the focus away from the main characters.
Overall, Her Firefighter Under The Mistletoe by Scarlet Wilson takes to you on an emotional journey with well constructed characters who overcome the obstacles to get a well deserved HEA.
Book Info:

Published November 1st 2013 by Harlequin Medical Romances
Being reunited with her childhood sweetheart is quite a surprise for Paediatric Consultant Jessica Rae. Especially as the boy she once knew is now a sinfully sexy, lifesaving firefighter! Even now, single dad Callum Kennedy still makes her heart go boom — something this grieving doctor never again thought possible…
For Callum and his gorgeous son, Drew, Jessica could be just what his heartbroken little family needs. And he'll do anything to convince her that he's just what she needs too…starting with a heart-stopping Christmas kiss!