In Her Hopes and Dreams by Terri Osburn, Noah Winchester has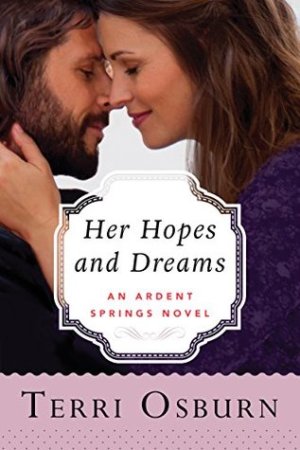 returned home to Ardent Springs after serving in the military. Now suffering from PTSD, all he wants is to find some peace. Then he meets his next door neighbor, single mother Carrie Farmer. Noah remembers Carrie all too well–the last time he had seen her she was married but sleeping with his friend Patch. Because of this, he doesn't trust her, he doesn't like her, and he's instant rude to her.
Carrie made a poor decision cheating on Spencer, but at the time she had her reasons for pushing him away. Then she winds up married to Patch, who abused her. All she wants is to work on opening her shelter for abused women and raising her young daughter. She doesn't want another relationship, especially with a man who clearly dislikes her. When Noah is put in charge of building the shelter, the two are forced to work together. The more time they spend together, the more they realize that maybe the other isn't as bad as they originally thought.
Both Carrie and Noah have issues with trust. Noah, having had a fiancé cheat on him, doesn't trust Carrie since she cheated on her first husband. He even demands to see Carrie's daughter to verify that she looked like his friend.
This entire thing had obviously been a mistake. One bad decision, which she'd more than paid for, and Noah condemned her for life. Once a sinner always a sinner.
After being in an abusive relationship, Carrie has trust issues with men. As much as she believes Noah would never truly hurt her, a part of her still has doubts.
While Carrie doesn't consider herself strong, she really is. She stands up for her daughter, doing anything to keep her safe, including keeping her away from Patch's family who had demonstrated abusive moments. When one of the funders of the shelter insults Noah, Carrie doesn't hesitate to stand up for him, telling the woman off.
"You can hold your own," he said, rubbing her back. "You're stronger than you give yourself credit for."
"I didn't used to be."
There were a couple of things that felt incomplete. For example, Carrie had hoped that the shelter would be open by the first of December. They missed the deadline, and it was never mentioned if the shelter was finally opened. Also, Noah participates in a PTSD study, but it's never clear what the outcome of that was. Did it help him, or did he only receive a placebo? It would have been nice to have these things concluded better.
Terri Osburn has crafted a wonderful story about two wounded people making peace with their pasts and learning to live for their futures. It's both heartbreaking and heartwarming, and definitely well worth reading.
Book Info:

Publication: November 15, 2016 | Montlake Romance | Ardent Springs #4
As a newly single mother, Carrie Farmer isn't quite ready to jump back into the dating pool in Ardent Springs—especially since her last marriage was such a disaster. But if anyone could entice her to wade in a bit, it would be her hunky neighbor, Noah Winchester. He's the perfect man: strong, protective, and smoking hot. But her eyes have deceived her before, and she's no longer willing to hand over her heart so easily.
After completing several tours in the Middle East, Noah returns to his hometown a very different man. The former soldier's plan to rest and relax is soon waylaid by the intriguing woman next door and her heart-stealing little girl. Something—or someone—put shadows in Carrie's lovely eyes, and he's determined to clear them away. But when hidden demons can no longer be ignored, the couple gets a reminder from an unexpected source that love truly can conquer all.