In Her Secret Cowboy by Marin Thomas, Marsha Bugler left town to finish school, and raised her baby alone after the father, Will Cash, told her that he wasn't interested in being a dad. Now years later, when her father's health begins to fail and there is so little time left for him Marsha needs to return to Arizona and introduce Will to his son.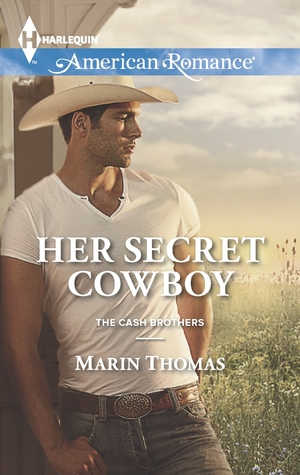 When Will receives a letter from Marsha telling him that he will be introduced to his son Ryan, he cannot believe what he is reading. He thought that she has gotten an abortion when she told him that she would take care of it, but learning that she has kept Ryan from him for so many years only hurts more. Then learning that his brother and her friend knew and didn't tell him makes the feeling of betrayal more deep.
Will has had to live with feeling like a dumb person not worthy of love for so many years. Having a child who only cares about reading and not in any physical activities doesn't help matters. He wants to be close to Ryan, but they don't seem to have anything in common. Will believes that his son may not like him and may even think him a dumb person since he didn't go to college, while his mother has a PHD and he is so smart he is taking advance classes and is already planning for college.
Will isn't the only one with insecurities, Marsha's father doesn't want to lose his place in Ryan's life and will do his best to push Will out of Marsha and Ryan's life. Ryan has his own insecurities, he believes that his father doesn't like him since he doesn't like rodeo or physical activities. But when things are meant to be no matter how much people will push things will not go that way. And Will, Marsha and her father will learn this very well. For Ryan is a smart kid and upon figuring out that his father is dyslexic he will take this project head on to try and grow closer to him.
Being with the Preacher's daughter when your family is obviously not liked and judged because of your mother's actions is not easy. But working hard and doing their best is something that the Cash kids learned early on. Now they will band together to try and help Will grow closer to his son, even if Marsha's father still believes that they are too good for the Cash family.
Things are never easy and Marsha will have to give Ryan and Will a true chance at getting to know and love each other, but she also has to deal with her own feelings. And until everything is out in the open and they accept and forgive their own part of what happened, Marsha and Will won't be able to have the family and HEA they both secretly desire.
I love the Cash Brothers series, the most important thing we learn is that family has to have each other's back, and in each and every book we see how they all help one another fight for and have the HEA the respective brother wants. I think this is so far the most painful for Will has been living with dyslexia for many years and has felt lacking and dumb because of it, not to mention that his father turning him away in a horrible way just made him more afraid that he would not make a good father. Marsha is a smart heroine and I really liked her, but I didn't like that she kept Ryan from Will for so many years and only came forward with the truth after she learned that her father was dying and not wanting treatment. In a way I understand her reasons, but she cheated Will from so many years of his son's life and I feel like that was not fair to either of them. But in the end true love always wins, and Will wins over Ryan and the love and acceptance of Marsha and her family which was great, even if it only happened after a disaster hits town. But that's how they will learn that the Cash family and their friends are always there when they are truly needed.
If you want a heartwarming and sweet romance, don't miss Her Secret Cowboy by Marin Thomas.
Book Info:

February 4th 2014 by Harlequin
The Cowboy And The Preacher's Daughter
Years ago, Will Cash wasn't interested in being a dad. So Marsha Bugler left town to raise her baby alone. But when her father's health begins to fail, she realizes she needs to return to Arizona—and introduce Will to his boy. Marsha is nervous to face Will not only because she lied, but because she's never stopped thinking about her cowboy crush.
Will is shocked to discover he has a son. And he can hardly believe the changes in Marsha. She's strong, sexy and a Ph.D. while Will's still a part-time cowboy living in a bunkhouse with his brothers. What does he have to offer her and his teenage son? Will has a lot to prove if he's going to get what he wants—the family he never knew he had.