Her Sexy Texas Cowboy by Ali Olson is summed up pretty much by the title. It's sexy, it's set in Texas, and Jeremiah is one hot cowboy!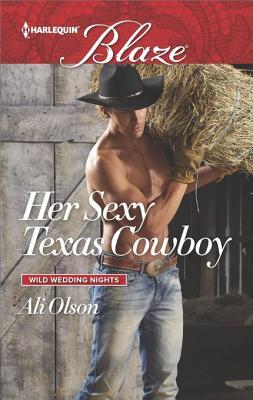 As best man for his friend Aaron's wedding to Jessica, Jeremiah knows that Jessica's sister Renee is off limits, though the first time they'd met, back at Jessica's bachelorette party, he'd felt the sparks between them. Now it's the week before the wedding, and Renee has come from New York to help with all the preparations.
Renee is nervous over seeing Jeremiah again, the man who has starred in a lot of fantasies since she first set eyes on him. When he's the one tasked with picking her up at the airport, that initial awkwardness soon gives way to some heated passion between them. Renee insists that if they're going to fool around together, it has to be kept strictly secret. Her sister Jessica is always a bit anxious about things, and Renee doesn't want to give her anything else to worry about. Besides Renee's only going to be in town for a week. She's up for a promotion at work, a job she's been working hard towards and has no intentions of moving away from the big city. But as she and Jeremiah spend stolen moments together, will it be so easy to say goodbye?
This is my first time reading this author, and I enjoyed the story. It takes place over the week before the wedding, so there are lots of scenes with Renee and her sister Jessica dealing with wedding preparations. As well, we get to see some of the friendship between Aaron and Jeremiah as they go about the groom's duties. Jessica is a worrier, and that comes through loud and clear with her desire to plan everything down to the last detail. Renee is clearly a caring sister who has a lot of patience!
Renee and Jeremiah try to get some time in together, though they are often thwarted midway through (to poor Jeremiah's detriment). Eventually they do get to spend the night together. They have good chemistry between them, and their love scenes are steamy and well written. Renee's determination to keep this a sex-only fling is at odds with Jeremiah who finds himself falling for Renee quite quickly, even though he knows she has no plans to stay. They have to work through the obvious conflict of how to bridge two very different lives. The plot moves along at a steady pace, and there aren't any big surprises, so it's a fairly lighthearted read. If you like steamy romances with sexy cowboys, you'll enjoy this story.
Book Info:

Publication: Jan 17, 2017 | Harlequin Blaze | Wild Wedding Nights
Everything's hotter in Texas
Workaholic Manhattanite Renee Gainey is in Texas for her sister's wedding, and waiting for her is none other than Jeremiah Richards, the irresistible cowboy Renee is not allowed to have. Her sister would freak out if there were sexy shenanigans going on right before her nuptials! But what single maid of honor could resist the best man when he's a red-hot Texan?
As the wedding draws closer, the burning attraction between Renee and Jeremiah consumes them both. Soon they're finding ways to sneak out of wedding duties to satisfy their cravings for each other. In her sister's spare room. Up in the barn's hayloft. Every chance they can get. But once the wedding is over, Renee is going back to New York. Hopefully, with her heart intact…