Her Temporary Hero (Once A Marine #2) by Jennifer Apodaca: You just never know what you are going to get when you read a book from a "new to you" author. In this particular instance, I truly came across a real gem and as a result, I am now a huge Jennifer Apodaca fan. Her classic writing style is easy to understand and this story has just the right combination of sexual chemistry, spiritedness, drama and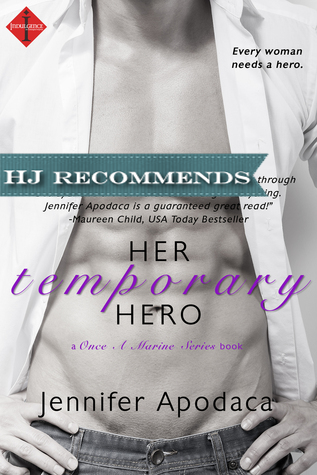 joy. I was captivated from the very first chapter and could not stop reading until I knew the plot's outcome.
Former beauty pageant winner Becky Holmes is on the run with her infant daughter Sophie. Her ex-boyfriend Dylan, who is also Sophie's father, just got released from prison. Dylan's goal in life is to make Becky suffer, which begins with obtaining custody of Sophie, whom he never wanted in the first place. Dylan's family is one of the richest in Texas, therefore, he has the financial means as well as the pedigree, to take whatever he wants. Becky is a lovely and caring young mother that just lost her mother to cancer. Until she has the money to return to nursing school, she cleans offices for a living. Luckily, her boss Lucinda knows of a ranch off the beaten path for Becky and her daughter to hide out in.
Former Marine Logan Knight needs a wife before his thirtieth birthday, in order to receive the deed for the land that he loves from his ingrate of a father. Logan is a warmhearted and wealthy man, handling the many challenges of PTSD while creating a safe haven for veterans on his ranch. He is truly lucky that his cousin Lucinda looks out for his best interests and ends up finding him the perfect woman.
Becky and Logan are great characters, each struggling to find a future were they can feel safe and secure. Their attraction is instantaneous and yearnings that have lain dormant for a long time are now front and center. However, due to their ghastly pasts and the fact that they barely know each other, taking it slow is a means to success. Their heat is tangible, once they are able to trust each other and let down their barriers.
Like all Indulgence romances, the cover of Her Temporary Hero is eye-catching and dares you to open up the book and take a peek inside. This marriage of convenience romance is well-written, has extremely likable characters and is nicely paced. Ms. Apodaca is a wonderful storyteller and this book is a true testament to her writing talent. Overall a terrific read!
Book Info:

Published July 14th 2014 by Entangled Publishing, LLC (Indulgence) |  (Once A Marine #2)
Former beauty queen Becky Holmes and her baby are on the run from her dangerous ex. With her dreams of love and marriage destroyed, she'll do anything to protect her child…even agree to hide out in her boss's cousin's house while he's away.
Wealthy, sexy, and emotionally haunted Logan Knight needs a temporary wife to get his land, per his dad's rules. No wife, no inheritance. But when that wife lands on his doorstep and comes with a baby, his darkest memories are triggered. He tries to keep his distance, but his efforts are shattered when he starts to have real feelings for his fake wife and child.
Just as Logan begins to think he may have a future with Becky, his attempt to have it all backfires into a betrayal that forces Becky into a heart-wrenching choice no woman should ever have to make.