In Her Valentine Fantasy by Nancy Warren, sexy event planner Jessica Lafayette has been searching for Mr. Right online. Much to her dismay, her latest match-up is a total bore and inconsiderate imbecile. Her date feigns an emergency and stiffs her with the bill in one of the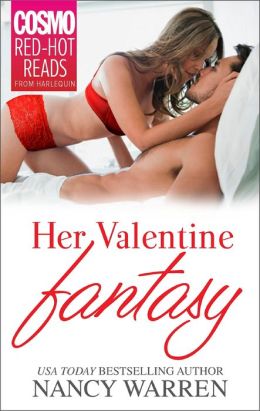 most romantic restaurants in Seattle. Luckily, Jessica's evening evolves into a night of mindless passion, when she and her gorgeous waiter hook-up. Sex with a stranger is Jessica's ultimate fantasy and now she is living it.
Hunky Sam Benedict owns the hottest upscale restaurant in town. His success is due to good business decisions, honest employees and the willingness to do whatever is necessary to keep his staff and the customers happy. On this particular night, he is waiting on tables and strikes up a conversation with Jessica when her date takes a phone call. They share an instant chemistry in addition to a delicious chocolate dessert.
Jessica and Sam begin exchanging emails and their one night stand develops into much more. They each need to come clean about a couple of things, before they can explore a future together.
This is a steamy novella that can be read in a very short time. Jessica and Sam are flirty and fun, in addition to being totally sweet on each other. I found their hesitation to believe in the possibility of love endearing and charming. Jessica's best friend Morgan is amusing and her antics are quite comical. I really enjoyed the bantering between Sam and his friends after a day of skiing, providing the male point of few regarding romance. Overall, this is an entertaining story with an enticing cover, good character development and a well conceived plot with some sweetness drizzled on top.
Book Info:

Publication: January 14th 2014 by Cosmo Red Hot Reads from Harlequin
Tonight's sinful dessert special…Valentine's Fantasy
The tasty dish from Benedict restaurant is everything Jessica Lafayette could want… or crave. And it's not the dessert in front of her–it's her waiter. A guy with dark, intense eyes that suggest he wants to slowly lick whipped cream off her skin. A smile so wicked it makes her insides lava-cake gooey. And a too-hot-to-handle body that was meant to be tasted…
Yup, Sam The Waiter is better than chocolate.
But what Jessica doesn't know is that her one-night-waiter is actually Sam Benedict, Upscale Restaurateur. And that her little lie about being from out of town is going to turn into a Big Deal. Now Jessica is in deep hot chocolate… because her Valentine Fantasy is starting to look a lot like a red-hot reality!