In Her Wish Before Christmas by Kimberly Quinton, Genny Ridgeway left Laurel Cove with a broken heart after Connor broke up with her when she thought he was going to propose. Now after the death of her grandmother, Genny has returned to help her family. But there is still the prediction that her gypsy grandmother did for all of them about their love lives and her secret wish that she had made so many years ago.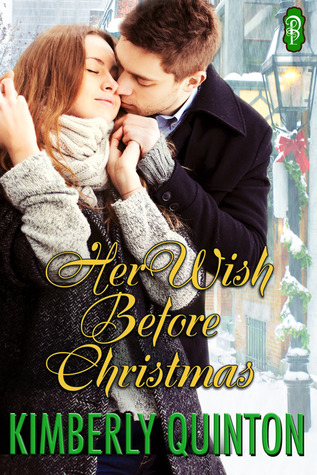 Connor O'Rourke has returned home to Laurel Cove with his son Jake. And now that he has the home they have always wanted, the only thing missing is the woman he never stopped loving. But first she needs to forgive him for letting her go, even if she doesn't know the entire truth of what happened many years ago and the reason for him breaking up with her.
At first Genny is reluctant to have anything to do with Connor, but she cannot turn her back on his son when there is no one else to look after him. Soon she finds herself trying to draw Jake out and having fun with him, even if it breaks her heart when she interacts with him and sees that someone had given him a such hard time before that he is afraid to do many things now and immediately is sorry for any mistakes he makes.
While at first Genny wants nothing to do with Connor and his son, soon she finds herself spending so much time together that they start to feel like her family. But first she must forgive him for past mistakes and give them a chance at a future before her secret wish can come true on Christmas Eve as per her grandmother's prediction.
This was a great read, I loved Jake and that he wanted Genny to be his mom so much that he wanted to be able to open the bottle that only her true love can open according to her grandmother. It did break my heart when he started crying over a little accident, I wanted to slap the person who made him so afraid of them, but I loved that Genny was able to console him and help him move on. And Connor, well who wouldn't want your true love to come back and want to win you back. I can't wait to read about Genny's sisters and cousin and find out how they find their true love according to their grandmother's predictions.
For a sweet and fun holiday read, don't miss Her Wish Before Christmas by Kimberly Quinton.
Book Info:

November 9th 2013 by Decadent Publishing
Her heart never forgot him…
Genny Ridgeway left Laurel Cove with a broken heart. Returning awakens old feelings, old longings, and the desire for long kisses beneath the mistletoe with the man who broke her heart.
The only thing missing is her…
Connor O'Rourke and his son finally have the home they've always wanted. Now, he'll do anything for a second chance at love with the woman he let get away.
It's Christmas time in Laurel Cove….
Surrounded by the spirit of the season and with a little posthumous help from her gypsy grandmother, can Connor prove he is the man Genny has always wanted to grant her wish before Christmas?