Hidden Hearts by Olivia Dade: A year ago, Miles, a carpenter with a popular TV show, lost his arm. Now he's a recluse with a crush on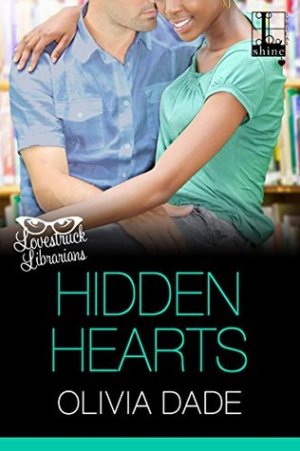 Mary, the librarian he's been emailing with for two months. Only when it looks like Mary has begun dating others is Miles ready to force himself to leave his house and make a claim for Mary's heart.
A few years ago Mary moved back to her hometown after her time in L.A. sent her into a bit of a spiral. Now she lives a quiet life working in the library, just how she wants it even though her heart still yearns for a bit more adventure.
Mary falls hard for Miles, but a man in the public eye means that eye will be on Mary and she's not so sure that's the life for her. And for Miles, he has to figure out how to accept his new life and just how Mary is able to fit into it.
And only a fool would let this moment – this opportunity – slip away now.
He stared down at Mary's beautiful face, only inches away. And then, before his fears cold have their say once more, he lowered his head and pressed his lips to hers.
One thing I kind of liked and also found a bit annoying was how courteous and quiet and polite they were as a couple. It just felt odd and also cute. It did take away some of the passion for me, though which I disliked. But even so I couldn't help but find it adorable every time they apologized or asked if they may ask a personal question or touch something. Mary was just so innocent and reserved, not the type of heroine I've read in a while.
I really enjoyed their romance though. It was slow going for Mary's conflict as the story mainly focused Miles, but both certainly had their damages and both helped the other grow out of their reservations and fears. Miles and Mary shared a very quiet, but deep sort of love that I appreciated.
For those who love the sweeter romance with hints of passion I recommend Hidden Hearts by Olivia Dade. It's part a very fun series, the Lovestruck Librarians, and although it can be read as a standalone I do recommend the whole series.

Book Info:

Publication: June 20, 2017 | Lyrical Shine | Lovestruck Librarians #6
AN ADMIRER WITH A SECRET . . .
Mary Higgs could be the poster girl for the buttoned-up librarian. She follows the rules. Stays 'til closing. Her kindness and dedication to her patrons are legendary. But those patrons have no idea what she's typing to the mysterious shut-in who emailed the library three months ago . . .
A year ago, Miles O'Connor was a gleaming, ab-sational star of the small screen. Then came the accident. Now he's a wounded recluse with a pizza habit and fears so unshakable that only the thought of losing Mary to an online date could lure him out of his cabin.
Soon their email rapport has turned into weekends on the couch, watching tearjerkers and driving each other insane with red-hot makeout sessions. But as their desire grows and their horizons expand, the life that brought them together might not be enough for either of them . . .