His Accidental Heir by Joanne Rock is a delightful contemporary romance with a Caribbean flair. Part of the MacNeil Magnates series, it's Cameron's turn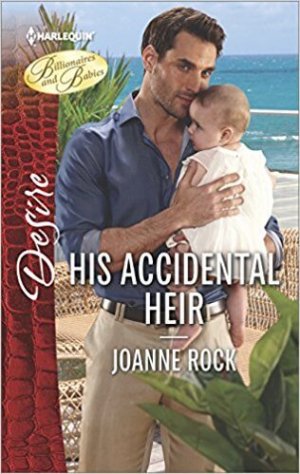 to find a partner. He just doesn't expect it to happen while on an undercover assignment!
Cameron gets to play the part of fussy and demanding Mr. Holmes, a guest at the Carib Grand resort newly purchased by the MacNeill's as part of the their hotel empire. He's there to investigate some recent negative reviews of the hotel, and knows that coming in as himself will make the staff give him extra attention . He's determined to ignore the immediate attraction he feels for Maresa Delphine, the hotel concierge. After all he's her boss, even if he's 'in disguise'.
Maresa is used to putting up with all manner of guests, but can admit to herself that she's dismayed to find herself attracted to one as rude as Mr. Holmes. But her life takes on a dramatic turn very quickly, when she becomes responsible for the ten week old daughter of her brain damaged brother. Cameron happens to be there when the baby is literally delivered into her arms, and can't keep up the façade of his character when he sees the predicament Maresa is in. Once he reveals his identity and they spend some time together, he offers her a proposal – marry him for a year. He'll get to fulfill the terms of his grandfather's will to inherit some of his family fortune and in return he will help her with all her family obligations, including caring for baby Isla.
Maresa is tempted by the offer, and the chance to provide for her family. It doesn't hurt that she and Cameron clearly have a sizzling sexual chemistry. But she's afraid she'll end up giving him her heart too. What will happen when the one year time limit of their marriage is up?
This is a really lovely story. Maresa is such a generous and warm hearted woman. She has a mother and brother who both need medical care and she devotes all of her time to them when she isn't working. Now she's taken on the added responsibility of a baby and knows how critical it is for her to keep her job at the Carib Grand. The fact that there have been negative reviews of the hotel is news to her, and she's determined to get to the bottom of it with Cameron. It's a bit of a mystery that they work on solving together over the course of the story.
Of course Cameron is nothing like the character he portrays upon arrival at the resort, much to Maresa's relief. He's quite taken by the baby too, which made for some really sweet scenes and it's no wonder Maresa is halfway in love with him when Cameron proposes a marriage of convenience. Cameron's attention to her is like a fairytale, and they share some sexy love scenes. Cameron soon comes to realize that he wants Maresa is in life permanently – he just has to convince her that his feelings are genuine.
The MacNeill brothers are an affectionate lot and there are some family scenes that emphasize this. There's also a new branch of the family that Cameron's been investigating while out at the resort in the Caribbean and I'll be looking forward to reading their stories too. His Accidental Heir is a delightful read from start to finish!
Book Info:

Publication: June 1, 2017 | Harlequin Desire | The McNeill Magnates
The Boss's Baby Bargain
When resort developer Cameron McNeill goes undercover to root out problems at his prized island property, his first discovery is the irresistible concierge, Maresa Delphine. Her business smarts are vital to his mission. But the struggling single mom could help with his personal mission, too: fulfilling the marriage terms of his grandfather's will.
Maresa is overwhelmed caring for her infant niece and tending to the demands of the resort's sexy mystery guest. When he reveals himself as the owner, she's thrown for a loop. But when he proposes…can she resist his brand of trouble in paradise?