His Amish Sweetheart by JoAnn Brown tells the story of Esther and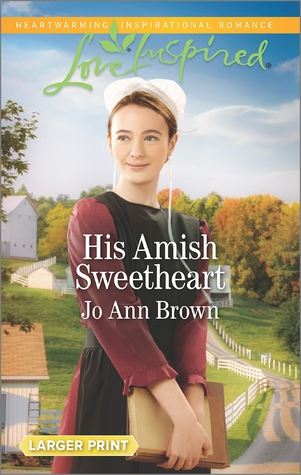 Nathaniel, who were childhood best friends, and are reunited now as adults when Nathaniel returns to the town where Esther still lives, Paradise Springs in Pennsylvania.
Esther is now the district teacher, and Nathaniel is determined to learn how to care for and raise alpacas on the family farm he inherited. Their close friendship resumes, yet they are cautious around each other due to secrets they hold close to their own hearts. A young boy brings them together, as he needs their tender care and support when his last living family member becomes gravely ill.
The tight knit community JoAnn Brown created in the first two books in this series, continues to come together to support this boy, and to provide moral support for Esther and Nathaniel as they help him. They must help the boy, Jacob, learn how to trust again, learn how to be simply a child for a change. It is such a beautiful story!
Jo Ann Brown continues to touch me with her writing and with this series- I look forward to more of her work, as her characters are strongly developed and they feel like one's own neighbors and family. I recommend this book to readers of Amish fiction, and to lovers of a good romance story in general.
Book Info:

Publication: August 23, 2016 | Love Inspired | Amish Hearts #3
Nathaniel Zook returns to his Amish community of Paradise Springs after inheriting his grandparents' alpaca farm — but knows nothing of the furry creatures. Only one person can teach him what he needs to know to save his family's homestead. But his childhood best friend, Esther Stoltzfus, still the pretty tomboy he remembers, is unusually reluctant. Nathaniel suggests the schoolteacher bring along some students so they can all learn together. Suddenly, the sweet alpacas and a dear young orphaned boy are bringing Nathaniel and Esther closer than ever. Yet he'll have to risk sharing all that's in his heart to form the family he always dreamed of.