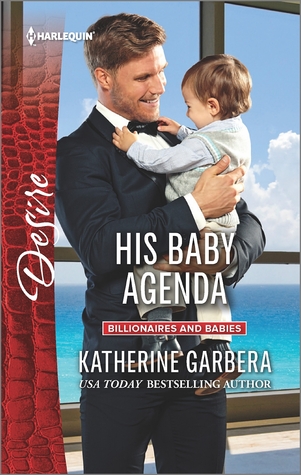 His Baby Agenda by Katherine Garbera: People sometimes focus so much on what has happened that they can forget what the future may be if they could just get over it.
Gabriella de la Cruz had moved on from college. She was no longer the same girl that she was. In fact after taking a year of and being "volunteered" into a nanny role she actually has come away with a career she loves and a business she is proud of. So what if she hasn't had a date in a while, she's just picky, everything else in her life is fine, just fine.
Kingsley Buchanan never left the whispers or the stares, his reputation has stalked him since that one fateful night in college. Even though he was cleared through the law, he wasn't cleared in everyone's mind. Now with the 10 year anniversary of that night coming up and his son to think about all he can think about is how to clear this up and start his life in the clear.
Kingsley and Gabriella shared one fateful night in college and then everything got crazy, now almost ten years later could they actually put the past behind them and start again?
Ms. Garbera has created a really amazing story here. This is definitely the first of at least two novels that will have you on your toes throughout the whole story. What isn't to like? A fast paced novel, murder, romance, a dad who would move mountains for his son, a strong female lead…. There is just so much to love and too capture the reader. This is one you won't want to put down but may leave you frustrated if you don't get the sequel right away because while there is a HEA for these two there is another story line dying to come out.
Book Info:

 April 5th 2016 | Harlequin Desire |
A nanny. A single father. A love stronger than revenge? Only from USA TODAY bestselling author Katherine Garbera!
Ten years ago, someone framed him for murder. Kingsley Buchanan lost everything, including Gabriella de la Cruz. Now the billionaire is back to settle old scores. But he must protect his child. Kingsley needs Gabi—as a nanny for his son.
But Gabi is no longer a naive girl. She's a businesswoman with needs of her own. The only thing that hasn't changed: her hunger for Kingsley. But Gabi won't risk her heart on a man she can't trust—unless she can convince him that love is more powerful than revenge…