In His Contract (Legally Bound #1) by Rebecca Grace Allen, after a bad experience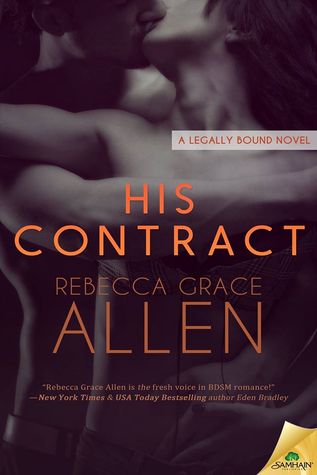 with a DOM, all of Lilly Sterling's plans for her life changed. Starting over in a new city, she's avoided getting close to anyone, and instead put all her focus into her career as a paralegal. With a big case handed to the firm, she's ready to get down to business. But meeting Jack throws her off kilter, because he re-awakens her need to submit in the bedroom.
Jack couldn't believe what he was seeing. From the minute Lilly parted those drapes, he couldn't take his eyes off her. It wasn't only because of how incredible she looked in that little black dress, so goddamn sexy it was almost painful. It was because of the barbed wire of worry lancing his thoughts, wondering how she'd react to the lifestyle he'd embraced. Her reaction wasn't at all what he expected.
Ever since his wife died, Jack Archer has tried his hardest to outrun his grief by burying himself in work and staying close to home to avoid following through on the promise he made her to find love again. When his childhood friend convinces him to go out one night for drinks, Jack reluctantly agrees and finds it might just be his best decision yet when he meets Lilly. Discovering her proclivity for the lifestyle he immensely enjoys, he draws up a contract in hopes she'll give them the chance to explore their intense chemistry with him as her DOM.
I used to enjoy BDSM fiction books, but after reading a couple of novels that took the elements of bondage/submission a little too far for me to handle, I stopped reading it. But seeing as I've read some of this author's other books and really enjoyed them, I had to give this story a chance. And I've got to say that Ms. Allen delivered a really engaging, fast-paced, smoking hot read, of two people haunted by events in their past that need each other to heal.
Where both sides of the story – the case Lilly is working with the firm's team of lawyers and the BDSM – entertained me, and together with a nice mix of intense and teasing dialogue made the pages fly by. However, there was a moment in the dialogue, which annoyed me where Jack said words that her old DOM used.
"Come on, Jack. It's been a year. You've got to get out of the house at some point."
"I know how long it's been. I'm not ready. And I can't do what you do."
"Can't what? Talk to a woman?"
"No. I can't just meet someone and bring her home for a night. Don't you find that kind of empty by now?"
"Do you think I'd keep doing it if it was?" Patrick grinned and folded his arms, the picture of confidence Jack used to possess. "These women know exactly what they're getting into – a night of dirty, hot sex, no strings attached. That's not you. But no one's talking one-night stands here. Just a date."
"Dating at forty-four. I'm not exactly a great catch."
"Are you kidding? You're a good-looking, single, law professor. The chicks'll be lining up to buy you a drink."
Both characters drew me in by their back stories, and the obstacles they had to overcome. Such as Lilly's past with her old DOM and whether she could trust another man enough to give the lifestyle another chance, if Jack could honor the promise he made to his wife, and would their friends and family be happy for them if they knew of their relationship. There seems to be a profound message in the latter. That people want what they want, and if you love someone enough, you should accept their choices without judgment. As proven with Lilly and her brother since their mother doesn't agree with his choice of a partner.
Lilly is tenacious when it comes to her job, and I liked that side of her. Because discovering the evidence needed to crack the case finally made her realize that she should still reach for her dreams when it came to her career. She's also strong and brave when she tells Jack of her past and for giving him a chance. Since her old DOM treated her pretty badly. But at the same time, she was quite naïve with her first DOM and this time around with Jack is different. He shows her how it should be between a DOM and their submissive.
While Jack, he's assertive yet caring when it comes to meeting Lilly's needs and it really shows through the smoking hot sex scenes that involved various elements of BDSM including spankings, bondage, edging, and blindfolds. Yet, there were moments where he annoyed me, especially when it came to keeping their relationship a secret because he was afraid his son wouldn't approve, or that it might cause him problems at his job. It wasn't fair to Lilly.
In the end, I really enjoyed this book and am looking forward to reading more of this new series by Ms. Allen. The way it ended was wonderful, as Patrick, Jack's childhood friend, as well as Jack's son help the hero realize that it's rare to find true love twice. I would recommend this book, if you enjoy reading stories that encompass BDSM, or the second chance romance trope.
Book Info:

Publication: November 10th, 2015 | Samhain Publishing | Legally Bound #1
Lawyers know when to play by the rules…and when to break them.
Harvard law professor Jack Archer once balanced his professional life with the private world of dominance, surrender and trust he shared with his wife. Since cancer stole her a year ago, finding love again—her final wish for him—is the furthest thing from his mind.
From his empty house to the classroom, grief follows his every move. Until he meets a young woman with shadows in her eyes even darker than his own.
Once a shining star at law school, Lilly Sterling's dreams died when the Dom she trusted left her heartbroken and lost. She's starting fresh in a new city as a paralegal, but meeting Jack reawakens all her old demons—and her lingering desires.
Jack offers to become Lilly's mentor for both the courtroom and the playroom, but tells himself it's not a relationship. Their carefully worded agreement guarantees that. But when their trial agreement starts heating up, both Jack and Lilly must decide what will tip the scales: the letter of the law…or love?
Warning: All rise for a book that contains a wounded submissive and a Dominant who wants to retrain her while retaining control of his heart. Discovery phase may involve spankings, bondage, edging, and blindfolds. Is it hot? You be the judge.