His Custody by Tamsen Parker Everything changed for Jasper and Keyne one night. Their families had always been very close, so it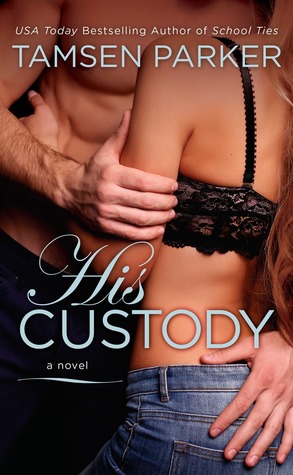 wasn't too surprising when Jasper immediately brings Keyne to live with him after both of their parents along with Jasper's younger brother, and Keyne's boyfriend, tragically die. But then Jasper steps up and actually fights for guardianship of Keyne, which seems an unlikely fight due to his business practices that skirt very close to line of legality, drug and alcohol use, and preference for kink.
Keyne really struggles to have the three people she cared most about in the world and her godparents suddenly gone. Her grief is overwhelming and the simplest things become incredibly difficult. But the one thing that helps her to cope with her new reality is the steady, constant presence of Jasper.
Jasper is also struggling. His sole focus is on Keyne and helping her in any way he can. He has to get to know her all over again since their loss has changed her in some respects. He also has to make some life changes so he can be what she needs. Living with a 17-year-old isn't easy, but Jasper is kind, patient, generous, and understanding.
"Fine. But the second you make me look ridiculous, this is over. Also, I don't like lettuce."
"Aye, aye, Cap'n," he muttered under his breath, which earned him a swift and, to be honest, well-deserved elbow to the ribs. "I mean great, I'll take that under advisement."
Over her senior year, things begin to shift. Jasper is reluctantly attracted to everything about her. The last thing he wants is to take advantage of her, but she pushes and tempts him like no other woman. As the fog of grief lifts, Keyne finds herself drawn to Jasper. They are compatible in every way and Jasper can give her what she needs.
"Don't make you what?"
"Don't make me feel bad because I …" She shook her head, blowing an audible breath out her nose. "You won't understand."
"Try me, sweetheart. When have I made you feel bad about something you wanted?"
His Custody is a surprising, sexy, and engaging read. Tamsen Parker developed the relationship between Jasper and Keyne so it felt right for them and the story. Ms. Parker created a great cast of supporting characters in Jasper's employees and friends. It did feel like part of the storyline wasn't fully resolved by the end of the book, but that didn't diminish my overall enjoyment. Fans of Jen McLaughlin and Cherrie Lynn will enjoy His Custody.

Book Info:

Publication: Published March 21st 2017 | InterMix |
From the USA Today bestselling author of School Ties and the Compass Series
He needs to be a better man for her sake, but she makes him want to be so bad…
Keyne O'Connell leads a charmed life. She has a caring family and a terrific boyfriend. Her senior year is about to begin, and her future looks bright. But one dark summer night robs her of everyone she loves, thrusting her into the care of her boyfriend's intimidating, much older brother.
Dark and brooding, Jasper Andersson is not a good man. His business dealings are barely legal. He's a womanizer and a casual drug user. He has no interest in becoming Keyne's guardian, although given her limited options, he doesn't have much of a choice. He knows he must protect her at whatever the cost.
But living in close quarters soon stirs up feelings inside them both that are far from platonic. Keyne needs a firm hand to keep her in line, but what she desires could lead Jasper into trouble…