His Ex's Well Kept Secret by Joss Wood takes an unusual twist on the amnesia trope to deliver a sexy and unique second chance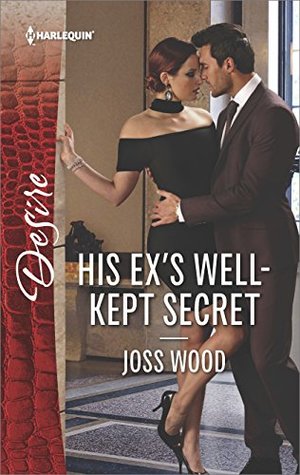 romance. Jaeger Ballantyne, a wealthy businessman whose family deals in precious stones has a chance to acquire a set of beautiful Kashmir sapphires worth millions when art appraiser Piper Mills shows up at his office with the desire for a quick sale. She's a single mom with a 9 month old baby – someone he'd normally stay far away from having lost a child to sudden infant death syndrome and then having his marriage fail too. 18 months earlier, Jaeger had been in a serious car accident in Milan, and lost 2 months worth of memories but had used receipts and meeting notes to painstakingly try to track those lost days. The data tells him that he and Piper have met before, but he doesn't remember anything about their encounter.
Piper's fling with Jaeger in Milan, a night of passion she's never forgotten (even if he apparently has!), resulted in her pregnancy and the birth of her beloved son Ty. Attempts to reach Jaeger when she'd become pregnant had failed, and she'd resigned herself to him not being part of their son's life. The death of her father and a sudden turn of events in her financial fortune has made her desperate to sell the sapphires left to her by her mother in hopes of saving her childhood home. So desperate in fact, that she's willing to approach Jaeger about purchasing them, a topic they'd discussed during their tryst in Milan. Jaeger's lack of memory is startling, and he clearly has no inkling that her child is his too. The attraction between them flares again, but Piper's secret stands between them. When Jaeger finds out, will it cost them this second chance?
What an entertaining read! I loved the idea of the Ballantyne family being involved in the jewelry industry and enjoyed the scenes with Jaeger and his siblings who are all part of the family business. Jaeger is a smart, handsome, and competent businessman whose earlier losses make his hesitancy to get involved with another woman understandable. He's very attracted to Piper, and even though he'd never normally date a woman with children, he finds himself not put off by Ty at all, but rather the opposite. Ty definitely steals some scenes here as a cute, bubbly and precocious baby and there are some quite funny moments between them.
Piper is torn by her feelings for Jaeger. She's relived the memories of their time together in Milan countless times, and at first she's reluctant to give into the attraction that clearly still exists between them. She knows how Jaeger feels about children and marriage (though not why until later) and resists telling him the truth about her baby. The longer she waits though, the more difficult it becomes, especially as they spend more time together. They share some steamy scenes but things are complicated. There are a few rough patches to get through, secrets to be revealed and apologies and forgiveness to be doled out before they get their happy ending. I'm definitely hoping to read more about the Ballantynes in the future. If you're a fan of secret babies, amnesia stories and reunited lovers, you'll want to pick this up!

Book Info:

Publication: April 1, 2017 | Harlequin Desire | The Ballantyne Billionaires #1
She's keeping this billionaire's son a secret…
Down-on-her-luck heiress Piper Mills will do anything to help her baby—even strike a deal with the devil who impregnated her! Due to a car accident, Jaeger Ballantyne has no memory of the passionate night he and Piper shared…or that he's Ty's father. Purchasing Piper's heirloom sapphires is the only thing on his agenda…until seducing the green-eyed temptress takes over.
Piper's falling for the stubborn tycoon, even as she continues to guard her secret. Can a man with no memory of their past find a way to forgive her so they can create a future?