In His Queen by Desert Decree by Lynne Graham, Molly Carlisle finds herself living a nightmare when she'd kidnapped and finds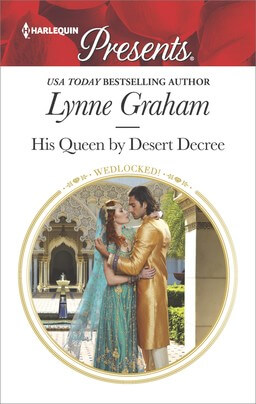 herself in a place where she doesn't belong – the kingdom of Djalia. Luckily, her kidnapper's brother is there to rescue her and keep her safe until she can return to her home. Yet, the more time she spends with King Azrael, the more she finds herself falling for a man she should stay away from. But when a scandal rocks her chance of going home, King Azarel will do everything to protect her. However, she never imagined she'd find herself the man's wife, even if his claim of her is only an old law. Will King Azrael be able to win Molly's heart, or will the pair lose their chance at happy ever after because they're too different?
"To recap, you're telling me," Azrael breathed tautly, "that, even today in Djalia, a man can marry a woman simply by declaring that she is his wife?"
"In front of witnesses. The marriage contract is verbal and complete as long as there are witnesses –"
"But what about the bride's consent?" Azrael demanded. "In such a situation the woman has not given her consent."
"In law she does not have to give consent for the union to be binding and legal," the professor assured him. "You must appreciate that such arrangements were common hundreds of years ago when women were viewed as property."
Although the desert decree seems unfair as it views women as the personal property of a man and unable to make their own decisions when it comes to marriage, I thought this story was a really good read, even though the heroine could be quite argumentative and didn't know when to quit blaming Azrael for the situation she finds herself in. The way this story started had me feeling sorry for the heroine, as what's happened to her isn't fair, especially since the Sheikh that kidnapped her is young, impulsive and doesn't understand how wrong kidnapping someone is.. What punishment will Azrael's brother receive? However, it was from the moment that the hero and heroine came face-to-face for the first time that illustrated how intense this couple's chemistry is because Molly isn't very forgiving for what's happened to her and she's not going to let the hero's brother get away with kidnapping her. Will the hero be able to talk her out of pressing charges?
As for the dialogue, it was intense and fascinating because the main characters are enemies after what the hero's brother did to her and that Azrael is determined to stop Molly from getting the police involved. However, there were moments where I just wished the heroine would give up arguing about every little thing, even if there is plenty for her to be annoyed about after what's happened to her and when it comes to Azrael doing what he thought was right to protect the heroine's reputation. Moreover, the heroine is resilient and courageous with how she handles everything she goes through, even if she is a little too confrontational at times and takes what's happened to her a little too personally, despite the fact that the hero does everything he can to accommodate her and makes things as good as he can for her.
"Stop…shouting…at…me," he commanded with lethal quietness.
"I'm a lot more vocal than a horse would be, aren't I?" Molly told him with a certain amount of satisfaction.
"You are my wife and I will treat you with respect," Azrael breathed tautly. "But you must treat me with respect too."
"Not feeling it right now, Azrael…not feeling it at all," Molly confided, trembling with rage. "If you marry a woman without her consent, you must roll with the punches when she dares to complain. I am not going to stop shouting because you tell me to!"
While the hero, he's arrogant, determined to win the heroine over and I liked that he was willing to do whatever it takes to make the heroine comfortable in her new surroundings, even though he doesn't have the easiest time because she's an independent woman determined to look out for herself and take care of the one person in her life that she loves. I also liked how protective the hero was of both his brother and the heroine, which is proven by what he does for his brother and by what he does to make certain the heroine's reputation isn't ruined. Will the hero be able to convince Molly that what he does for her was for the right reasons?
Overall, Ms. Graham has delivered a really good enemy to lovers trope encompassing story in this book where the chemistry gets stronger every time they argue; the romance was enjoyable and showed how compatible these two are; and the ending had me so pleased by the words these two express in their love for each other. Certainly, Molly is more than enough woman for Azrael and there's no way he'll be like the other men of his family. I would recommend His Queen by Desert Decree, if you enjoy the enemy to lovers trope or books by authors Heidi Rice, Jennifer Hayward, Cathy Willams and Carole Marinelli.

Book Info:

Publication: November 21st, 2017 | Harlequin Presents |
Wife—by royal declaration!
Language teacher Molly Carlisle is furious when she is kidnapped by an impulsive young sheikh and taken to the kingdom of Djalia. Until she meets her abductor's brother, and his commanding charisma sends a shock wave of need through her…
King Azrael fights hard to resist the temptation of Molly's bountiful curves, especially when a sandstorm strands them overnight in the desert. To protect her reputation from scandal, Azrael declares them secretly married, only to discover his tactical announcement is legally binding—Molly is now his queen! And Azrael is determined to claim his wedding night…