His Secret Baby Bombshell by Jules Bennett: As far as bad ideas go,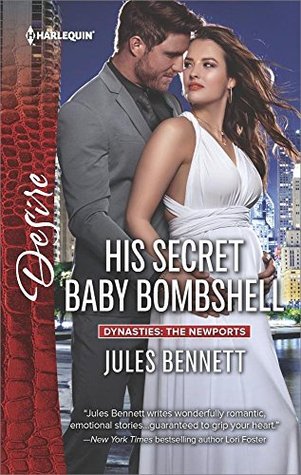 sleeping with your families enemies ranks pretty high. To do it as you are changing birth control pills and then continuing to do it, well there aren't many things higher.
Eve Winchester was a planner. Everything had a plan A and plan B, some things even had a plan C. Then her father got cancer, then she found out she had a half sibling, then she met him. She knew he was bad news, he was out to get her father and was open about it, but something was there, something electric. Whatever it was it was just too powerful to stop.
Graham Newport knew it was wrong, she was the daughter of his half brother and family came first no matter what. The problem was there was too much energy, too many sparks, nothing could/would kill the heat. After all he didn't get everything he wanted by waiting, he went out and got it.
Eve and Graham may not have planned any of this but now with a heat that is still growing, secrets coming to light and families still not speaking they have to deal with one more secret.
Wow, this book was definitely a bombshell in a really amazing way. It is one of a series and the only problem with it is waiting for Graham's brother's book. This book can certainly stand on its own though and does an amazing job at that. Between the plot and it's players you will be taken on a wild, hot and passionate ride. It's not all about the sex either, the emotions will run high so be prepared to go through the ringer a couple of amazing times.
Book Info:

Publication: Expected publication: October 4th 2016 | Harlequin Desire | Dynasties: The Newports #4
Expecting her rival's baby!
Driven businesswoman Eve Winchester has big plans to take her father's Chicago real estate empire global. But when she ends up pregnant by her family's personal and professional nemesis, she's thrown into the shark tank of corporate intrigue. Now she's doing damage control as she falls even deeper for Graham Newport.
Graham has never had such a heated, secret fling. But suddenly Eve is pregnant, and no strings attached turns into the ties that bind. Graham won't turn his back on what's his, but will family friction tear apart their fledgling affair?