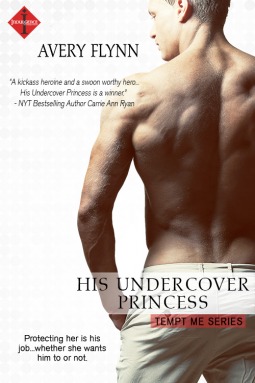 In His Undercover Princess (Tempt Me #1) by Avery Flynn, Elle Olsen has kept her real identity a secret for years. Because never getting too close to anyone has made it easier for her to stay hidden from the people that killed her family. Except now, those very people have discovered her location and are coming for her. However, it seems they'll have to go through the handsome man that kidnaps her and has assigned himself to keep her safe.
"So while the world thinks of you as a real-life Bruce Wayne with hundreds of millions in the bank and models draped across your arm, you're really Batman, aligned with the Resistance, and you kidnapped me for your own good?"
"Exactly," he said.
"Isn't that what an assassin would say in such circumstances?" She batted her eyelashes.
Dominick 'Dom' Rasmussen has dedicated his life to the Resistance. At least until he makes certain the right person is sitting on the throne and balance is restored to the country that means so much to him. Kidnapping Elle is easy, but convincing her to take her rightful place proves harder than he thought. Tricking her seems to be his only option, especially when he knows that things will become a lot more dangerous if she doesn't except her destiny.
What an incredible read Ms. Flynn has penned, encompassing the sexy protector trope, a hero determined to convince the woman he's kidnapped to accept her destiny, and a heroine whose world is turned upside down in more ways than one. Because not only does she need to accept her place as a royal, but she also learns that someone she thought was dead is still alive. The way this book started drew me into this story's fast-paced plot immediately, as I was eager to discover why Dom needed to kidnap Elle, and how he was going to convince her that she was solution to her country's problems, after using such an unpleasant method to get her to listen.
I really liked both the main characters. Elle is strong, feisty, independent and stubborn. She really knows how to push Dom's buttons, even though he's not so easily riled by her desire to deny her birthright. Then again, I couldn't help but feel sorry for her. She's lost a lot because of her royal heritage, so why would she want to return, even if it helps save the country she abandoned? As well as reunites her with someone that she believed was dead, which was the reason why she left her birth country in the first place.
While Dominick, he's loyal, confident, resilient, and determined to get Elle to see why she needs to take her rightful place to restore her country's monarchy, even if he has to trick her by using one of her favorite pastimes to convince her. However, he has secrets that, if revealed, could destroy the trust she's finally starting to have for him. Secrets that could send her running towards the danger she's facing, instead of keeping her away from it like he was supposed to be doing as someone given the task of protecting her.
For so long, Elle hasn't had any serious relationships, so why is it that Dom appeals to her so much? Is it the fact that he knows her real identity? Whatever the reason is, there's no doubt that they'll give in to the strong chemistry between them. So, when they eventually do, the sex scenes are intense, full of passion and completely hot. Proving that there's no way Elle can discard the hero like every other man that she's been with.
"The princess requests your princess at the Kronig. She says…" Bendsten paused, a smile curling his normally taciturn expression into one of humor. "One kidnapping deserves another."
Overall, I was absolutely charmed by this story, and can't wait to read the next book in this series after the way Ms. Flynn wrapped up this story with the epilogue, and a secondary character of this book looking to blackmail someone. As for the way this story ended for the two main characters, this author did an amazing job. It illustrates that payback is a b****. That there are consequences for Dom kidnapping her, and there is nothing the heroine won't do to have him in her life permanently.
I would recommend His Undercover Princess by Avery Flynn, if you enjoy the sexy protector trope, or stories encompassing a heroine needing to accept her destiny to save a country.
Book Info:

 May 2nd, 2016 | Entangled Publishing | Tempt Me #1
Stylist Elle Olsen lives in fear of someone discovering her secret identity as Princess Eloise. But the men who killed her entire family in a bloody coup have done just that and now they're coming for her. All Elle wants is to disappear into anonymity again, but the panty-melting billionaire who kidnaps her isn't about to let that happen.
On the society pages, smoking hot financier Dominick Rasmussen is one of the world's most eligible bachelors, but there's more to him than meets the eye. As a secret resistance fighter, his one goal isto get Princess Eloise on the throne and restore the monarchy. The biggest problem? His stubborn and sexy undercover princess has no interest in ever wearing a tiara again.
Their goals couldn't be more opposed, but neither Dom nor Elle can deny the attraction bringing them closer together. As the stakes rise and danger increases, they are forced to choose between love and country…