In His Wicked Wish (Cinderella Sisterhood #5) by Olivia Drake, Actress Madelyn Swann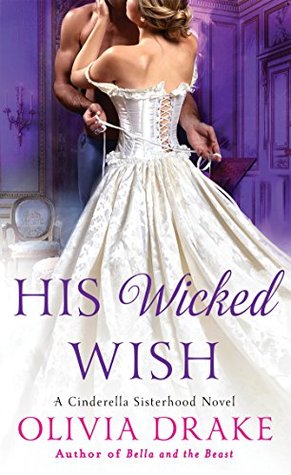 is ending her career at Covent Gardens and has come up with the perfect plan to fund her future ladies' apparel shop. She will auction herself–and her virtue–to the highest bidder among a very chosen group of her admirers, becoming their mistress for one year. But a lady of the ton convinces her to take a chance on a stranger, explaining that she has a knack for matchmaking. Maddy lets herself be swept away with Viscount Rowley's plan to shock his father, the earl, with a scandalous marriage to her. But as she gets to know the family and Nate better, she wonders if she's made the right decision when her heart becomes involved.
'It was imprudent to wish their marriage could be more than one of convenience, for she must not want something that could never be.'
Nathan Atwood has been at odds with his father, the Earl of Gilmore, since he was a mere child. Returning from the Far East, he knows that marrying someone from Maddy's station would spite his father in the best, or worst, of ways. It's apparent, though, that Maddy is quite intelligent and while she can certainly play the part of being a chatterbox, he's uncertain how long she will go along with his scheme. Nate is also growing more convinced that his wife is hiding something from him but he's not sure what it could be. What he does know is that having seen his parents always at odds when he was growing up, he needs to shield his heart from falling for seductive Maddy. But it may already be too late before he realizes it.
"I was an upstart actress who sold herself to you at auction. Now I'm going into trade. I'm afraid I won't ever be a proper society wife."
Nathan's mouth curved in a wicked smile that put his gorgeous dimples on display. "Then we shall be improper together."
What do you get when you pair together a virginal actress on a mission with the black sheep of a noble family who has his own vendetta? You get one highly enjoyable historical romance that had more than its fair share of desire and drama.
His Wicked Wish was actually a lot of fun in addition to the passion and the family issues both of our protagonists faced. Maddy and Nate's relationship was what really stood out to me, with their quick, witty bantering and the romance that neither of them wanted to admit to. I thought it was interesting that they were both outcasts, him from his family and she from society as she was an actress. And I loved that Maddy didn't let Nate get away with anything. She would take him to task without batting an eyelash. And he liked to tease her, just to get her riled up. They had such a nice give-and-take between them while they were learning to admire each other's intellect.
The problems Nate and Maddy faced in regard to their respective families added a lot of tension to their relationship. I liked that Maddy turned out to be a very compassionate, caring person who liked to help others. That didn't always sit well with Nate, especially when it came to his family, as there was bad blood between he and his father. The dynamics between them kept things very interesting throughout the story all the way through to the end when we got all of the details about their big argument a decade earlier.
The only thing about Maddy and Nate's romance that bugged me at first was that they were basically using each other to further their own purposes. Admittedly, marriage of convenience is not my favorite trope to read and I'm not a huge fan of stories that revolve around manipulations and lies. However, since both Nate and Maddy went into this knowing they were each playing their part, it made it easier to accept that part of their relationship and see where it led.
Fully charged with emotions, His Wicked Wish can be read as a standalone or as part of the Cinderella Sisterhood series. Either way, the intriguing characters and the exciting plot will be sure to keep readers completely engaged from start to finish.

Book Info:

Publication: May 31st 2016 | St. Martin's Paperbacks | Cinderella Sisterhood #5
MARRIAGE TO A NOBLEMAN? NOT IN HER WILDEST DREAMS. . .
The daughter of a disgraced woman and a common actor, Madelyn Swann has been shunned by the nobility. No proper lady would traipse about on a Covent Garden stage, let alone sell herself at auction to the highest bidder. So why in heaven's name would Nathan Atwood, Viscount Rowley, make a generous offer for her hand?
Turns out Maddy is exactly the type of woman Nathan wants as his wife. Finally, he can embarrass his snobbish and cruel father, the Earl of Gilmore—and scandalize London society—with his beautiful, unsuitable bride. Then he'll depart England forever and leave his wife behind. Having secret plans of her own, Maddy is happy to play the role … only to find that enjoying her husband's seduction requires no acting whatsoever. But as she falls madly in love with Nathan, can she persuade him to stay with her for always?