In Hold Me Close by Rosalind James, Kayla needs to escape her abusive boyfriend, who is a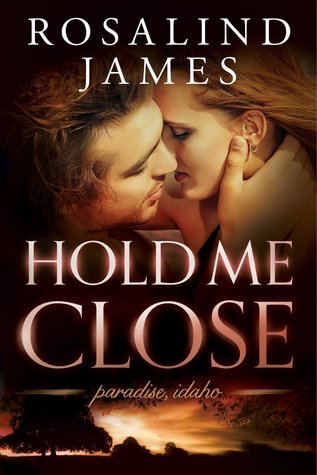 prosecutor. Unable to turn to the police since he has connections on the force, she turns to the domestic abuse hotline and is able to sneak away with her son. She goes back to Paradise, Idaho, where she briefly stayed when she was younger when her mother was married to Bill. There she reconnects with Luke, who is now the high school principal.
First off, this book deals with domestic violence. While there isn't anything too graphic, if this is a trigger for you, you might want to stay away.
That being said, I adored the characters in this book, especially Kayla. When Alan tried to hurt her son, Eli, she did what she could to remove him from the situation to keep him safe. She's determined to start over, to make her way herself without having to lean too much on other people. Part of it is because Alan made her completely dependent on him and she didn't want to feel that way again. And as scared as she was to trust people again, she quickly realizes that the people in Paradise are genuine and caring and lets them into her life. She wasn't a victim–she was a survivor.
Luke, having had kids go through that school system, recognizes the signs of abuse. As much as he wanted Kayla, he never pushed her, letting her determine the pace at which their relationship developed. I loved how he also embraced Eli, knowing that the two of them were a package deal. He also realized that Eli wanted to help Kayla out, so he gave him a job, paying him to play with his dog, Daisy.
Eli, after going through what they did, was wise beyond his years. He was very protective of Kayla, and he wasn't afraid to let Luke know it.
Eli looked at Luke again and said, still quietly, "If you hurt my mom, I'm not going to play with Daisy anymore."
And then he turned, walked down the steps, and disappeared around the side of the house, and Luke was left standing there, feeling like he'd just taken a punch to the gut.
My only issue was that I would have liked to have seen more of the reunion between Kayla and her once step-father, Bill. It had been mentioned that Bill would want to see her, and we get a brief reunion at Thanksgiving, but it basically just a hug shared between the two. Considering her time in Paradise when she was younger was the reason Kayla returned to it to escape, I thought there should have been more to it than that.
The author includes statistics, warning signs of abuse, and tips on how to get help at the end of the book, which I thought was a great addition and information for those who may need it.
Domestic violence and its aftermath are not easy topics, but Rosalind James handles them beautifully. This is a story of surviving something terrible but bouncing back and learning to not only become independent again, but also to trust and love again as well. I recommend giving it a read.
Book Info:

Publication: December 8, 2015 | Montlake Romance | Paradise, Idaho #2
Kayla Chambers knows what love is—and what it isn't. When her boyfriend turns abusive, she and her son escape to a new life in a place where he'll never find them. The idyllic town of Paradise, Idaho, has everything she needs to get back on her feet. Survival is her only goal, and the last thing she wants is another man in her life.
But Kayla's new neighbor, high school principal Luke Jackson, is determined to change her mind. Luke usually takes the fast lane with women, but he can see that Kayla and her son need help, and he wants to earn her trust—even if that means taking things slow. He strikes up a friendship that soon simmers into something passionate and real. But when Kayla's past catches up with her, Luke knows he has to find a way to keep her safe…or risk losing her forever.