In Hold on Tight (Man of the Month #2) by J. Kenner, There are days when Spencer Dean feels like he's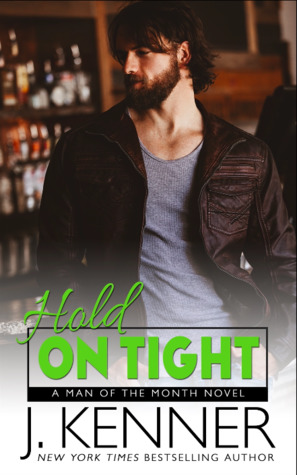 never going to shed his past, having grown up on the wrong side of Austin. His television career in remodeling and flipping houses looked like it might be the way out. And it likely would have been everything he'd ever dreamed of had his future bride, Brooke Hamlin, not shattered his heart when she left him at the altar a couple of years ago. Now Spencer is poised to make a comeback of sorts. But it all hinges on him working with the woman who let him down. He decides he'll give in and work on the remodel project for The Fix on Sixth with one condition: he gets revenge. Revenge that will be in the form of Brooke at his beck and call physically anytime, anywhere for the length of their project. Then he'll be the one who leaves. Only when it comes right down to it, Spencer realizes there's a lot he never knew about Brooke's decision. And it changes everything, leaving him to wonder if there's a chance he can fight and win her back after all.
"It's simple, baby. You want me on your show, then we're together again. Completely. Totally… I want you to remember what it felt like. I want you to relive how you exploded in my arms. I want you to beg for me, baby. And when the show wraps, this time it'll be me who walks away."
Brooke's excitement level is through the roof when she gets the chance to spearhead the remodel on The Fix. Making a reality show out of it is the icing on top as she knows it can launch her remodeling business into another level. But learning that she'll only get the deal if she works with Spencer? That throws a wrench in things. Brooke is still dealing with the emotional fallout of breaking off their marriage and the other event shortly after that shattered her trust where men are concerned. To add insult to injury, Spencer seems bent on getting back at her for what happened–not that she can blame him. He just doesn't realize not only the sacrifice she made for him, but also how much he's asking of her to give complete control over to him physically with their little agreement. But Brooke is shocked to find out that the sparks are still as strong as ever between them and that she somehow does still trust the only man she's ever loved. Is it too late to start again? Or will the same issues come creeping up again and again if they give it another shot?
"You. This man. This guy right in front of me. He's who I want. Who I've always wanted. And you're not getting away from me without a fight."
A heroine's whopper of a secret choice led to the hero's need for revenge in J. Kenner's second book in her sexy Man of the Month series. Every bit as powerful a love story as book one, Hold on Tight will grab hold of your heart and not let go.
"I want to watch you break apart. I want to see you shatter. And I want to know that I was the one who took you there."
Revenge tropes are tricky for me to get on board with sometimes as there can be such a level of animosity that it's almost uncomfortable to read. However, I know that if anyone can make me like this trope, it's J. Kenner. And I can happily say that she did indeed make me like these characters right from the start and feel invested in seeing their predicament work out as they got their second chance at love. It didn't hurt that we got to hang out with the crew at The Fix on Sixth again. But it was the lingering tension and super strong attraction between former bad boy Spencer and privileged Brooke that had me glued to the pages, wondering what could have caused a rift between such a seemingly perfect couple.
I have to say that while I grew to adore Brooke, she was a bit too slap-happy for my taste–she was kind of reactionary when she got emotional–but I got where she was coming from. She was faced with a terrible choice to make the day before her wedding was to take place with Spencer and it was a no-win situation. I could have cried for both of them being pushed apart. Brooke also had a traumatic event happen shortly after which affected her deeply and caused her to have trust issues. So when Spencer came back into her life, guns blazing and looking for revenge? Yeah, not a good time. I must give kudos to him, though, because he immediately saw how Brooke held back, seeing the trepidation in her that wasn't there before and he knew to back off. I did love watching them fall back in love (if they ever fell out of love, that is) and how all the pieces were put back together. So romantic and absolutely lovely.
Look at that cover! *grins and fans face* That alone should have people snagging this book. However, the passionate romance and emotional journey we go on will undoubtedly keep readers' attention and have them rooting for this dynamic couple to get it right this time around.
Book Info:

Publication: January 30th 2018 | Martini & Olive Books | Man of the Month #2
A hard body. A dangerous past.
Meet Mr. February.
Reality-TV star and reformed bad boy Spencer Dean doesn't trust women. Not after his fiancée, Brooke, left him at the altar five years ago, breaking his heart and hardening his soul.
Now, Brooke is close to a deal for her own show that will launch with the remodel of a popular Austin bar. The problem? The network insists that Spencer step in as her partner.
He's tried to forget her—but he can't deny that he still wants her. More than that, he wants to punish her. And so he agrees, but only on terms that are provocative, demanding, and wildly sensual.
It's the perfect set-up for extracting revenge. But he doesn't expect to fall for Brooke all over again…
Revenge never looked so hot.
**Hold On Tight is part of a binge read series by New York Times, USA Today, Wall Street Journal, Publishers Weekly, and #1 International bestselling author of the million copy Stark series, J. Kenner.
Each novel in the series is a STANDALONE romance with a guaranteed HEA!
But even so, you won't want to miss any in the series. Because then you can answer the question…
Who's Your Man of the Month?
When a group of fiercely determined friends realize their beloved hang-out is in danger of closing, they take matters into their own hands to bring back customers lost to a competing bar. Fighting fire with a heat of their own, they double down with the broad shoulders, six-pack abs, and bare chests of dozens of hot, local guys who they cajole, prod, and coerce into auditioning for a Man of the Month calendar.
But it's not just the fate of the bar that's at stake. Because as things heat up, each of the men meets his match in this sexy, flirty, and compelling binge-read romance series of twelve novels releasing every other week from New York Times bestselling author J. Kenner.
"With each novel featuring a favorite romance trope—beauty and the beast, billionaire bad boys, friends to lovers, second chance romance, secret baby, and more—this series hits the heart and soul of romance." — New York Times bestselling author Carly Phillips
Complete Title List:
Down On Me
Hold On Tight
Need You Now
Start Me Up
Get It On
In Your Eyes
Turn Me On
Shake It Up
All Night Long
In Too Deep
Light My Fire
Walk The Line
And don't miss Bar Bites: A Man of the Month Cookbook by J. Kenner and Suzanne M. Johnson, featuring recipes, slices of life, and all new scenes and short stories!