Holiday at Magnolia Bay by Tracy Solheim: Jenna Huntley daughter of a career navy man didn't have a ton of stability growing up, other than the two weeks she spent in Magnolia Bay every summer. There is where her passion started, sea turtles everything about them. It's what caused her to get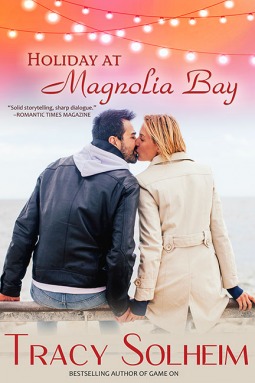 her biology degree, what caused her to come back to Magnolia Bay as an adult and now what is causing her to reach out and try to start and international hatchery.
Lt. Commander Andrew Lanham, a navy SEAL and PTSD sufferer. Now on leave as he tries to combat his PTSD he is staying with his godmother in Magnolia Bay. He loves the small town and the peace that he finds there but can he figure out how to get over what he's seen and what he's done?
Jenna and Drew have one thing in common Miss Evie and she seems determined to throw them together no matter what but what do a feet firmly planted young lady and a wandering SEAL have in common? Lust, but what happens when he gets called back to duty? Will this be just a duty stop? Or is the future bright this Christmas in Magnolia Bay?
Ms. Solheim has done it again and quickly. In this short novella we are brought back to Magnolia Bay and all that is peaceful and calm. We are given magnificent characters to work with and abundant passion. This is a short read but incredibly entertaining and heartwarming. This is a holiday story for those who don't believe in the magic of the holidays or true love.
Book Info:

Published October 14th 2014 by Tule Publishing
When Navy SEAL Drew Lanham sees Jenna Huntley rising out of Magnolia Bay, she reminds him of the goddess of the sea, but he has to ignore her siren's call as he's home on a brief leave trying to recover from a devastating mission where he lost a teammate.
Jenna's more interested in protecting and studying Sea Turtles and building a local hatchery than in men; except when she first locks eyes with Drew, she realizes he just might be the one man who can pull her out of her lab and into his bed to celebrate Christmas Magnolia Bay style.