Holiday Baby Bombshell by Karen Booth: Sometimes when you are so used to "screwing up" you have no idea how to handle the "real"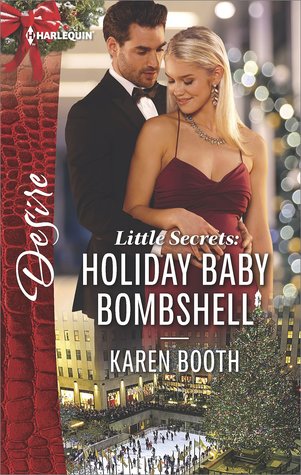 deal.
Charlotte, Charlie, Locke was her family's black sheep. She had no idea what to do when all of a sudden she had a focus and really have a complete plan for the future. When she figured that piece out she really should have assumed something else would happen and something or maybe someone would change her plans.
Michael Kelly was more. He was bigger than life sometimes. A gold medalist, who moved his golden touch to real estate, however this just showed the professional side. On the inside? He was just as screwed up if not more so than most people. He didn't know how to have a normal relationship, with anyone. He also wasn't sure he even cared.
Michael and Charlie were certainly a pair. Neither one knew of what though or what the future held, but one thing is for certain, they were bound to be together. Maybe it was fate or maybe it was just chance.
Ms. Booth has given her readers a wonderful story, full of complex characters and furthering the Locke story. The story can be read as a stand alone but is part of a series. This is a family you are sure to fall in love with and watch grow and develop. Ms. Booth has made magic here melding elements of realism with elements of fantasy and wistfulness. While not a hugely holiday book this is a great HEA that will make your heart lighter.

Book Info:

Publication: November 7th 2017 | Harlequin Desire | Little Secrets #5
From Rivalry to Revelry…to Romance?
Competitive swimmer turned real estate magnate Michael Kelly is tastier than a Christmas cookie. But now Charlotte Locke's sexy former lover is her top business rival…and the father of her unborn child. Determined to keep her professional cool, the hotel heiress hides her delicate condition from her family—and from her commitmentphobic ex. Until Michael moves in next door, exposing a desire left unquenched and Charlotte's pregnancy secret.
Michael may not be daddy material, but losing Charlotte and their baby isn't an option. He'll close the deal at any cost—even if it takes a Christmas miracle to prove this playboy is reformed for good!