Hollywood Scandal (a Seacliffe Medical Novel) by Julie Rowe: Dr. Calla Roberts is not your typical plastic surgeon. She is not in it for the money or the prestige. Reconstructive surgery is her specialty and helping others is her calling. Not to long ago Calla was extremely happy with the way her life was going. She was doing the work she loved while preparing for her upcoming nuptials, when tragedy struck both her and her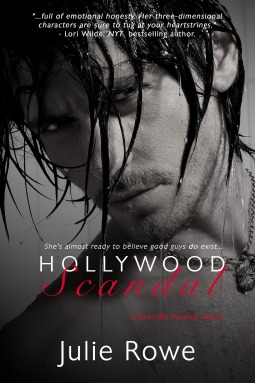 family.
Calla, her brother, and parents were in a horrific car accident. Miraculously, Calla survived unscathed, but her parents died and her brother ended up a quadriplegic. While dealing with her grief, her now ex-fiance cleaned out their joint bank account and ran off with his secretary. Needless to say, Calla was a mess, but she knew she had her school loans to pay down and her brother's care to finance. So she relocated from her home in Chicago to the City of Angels, in order to take a position at the prestigious Seacliffe Cosmetic Surgery & Spa. Facelifts, tummy-tucks and botox are Calla's new bread and butter. Luckily, her new position allows her a little time to continue helping those in need of her skills.
Alexander Hardy is the good looking attorney that represents Seacliffe. He and Calla don't see eye to eye at first, however, he slowly wins her over with his honesty, both in and out of the courtroom. In fact, he ends up representing her after Jeff MacKay, an A-list actor, begins making her life miserable. Alex and his famous grandmother become an integral part of Calla's life as Jeff begins his crusade to discredit Calla, in anyway possible.
There is nothing more appealing to the press and paparazzi than a good Hollywood scandal. Ms. Rowe does an excellent job of creating havoc and letting the reader experience what actually goes on as a scandal is unraveled. This a solid, quick-paced read and I only wish there had been more intimacy between Calla and Alex, I liked them as a couple. All of the characters in this story are fiery, well described, and interesting. This is the third novel I have read about the Seacliffe Spa and I hope the series continues.
Book Info:

Publication: May 26th 2014 by Entangled Publishing, LLC – Indulgence | (a Seacliffe Medical Novel)
Dr. Calla Roberts has seen too much death, destruction and betrayal to ever believe in fairy tales or men who are as beautiful on the inside as they are on the outside. Which is why LA Lawyer Alex Hardy irritates the crap out of her. He's a lawyer who practices radical honesty in a city famous for make believe. When an actor who thinks he can buy or cheat his way out of anything attempts to discredit Calla, Alex (with a crooked nose for trouble) champions her desperate cause. She slowly begins to think that good guys do exist, until she discovers Alex has lied about who he is, and who he loves.