Home to You by Robin Kaye: Kendall decides to go home after losing her job and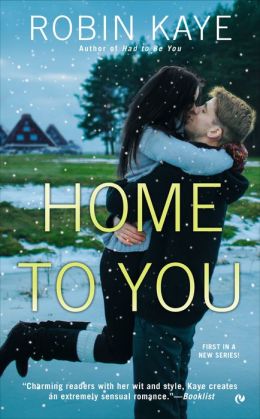 finding her fiancé in the middle of packing to leave her. To cap off a very challenging day, her car breaks down short of her destination. She's in the middle of an emotional break down when the sexy and intriguing Jack comes to her rescue.
Jack is staying at his family's cabin while he is doing some repairs. Jack, aka Jackson or Jax, has retreated to the cabin looking to escape the world after a ski accident and taking a much needed break from work. Jack has been a workaholic who has become almost unrecognizable to his friends and sister. He has his reasons for not immediately correcting Kendall when she doesn't recognize him or connect him to the Jax she knew.
Kendall is a therapist and she is struggling to deal with missing all the signs that her relationship wasn't as stable as she believed. Jack makes her feel sexy and desirable after feeling anything but that with her ex-fiancé and their attraction grows the longer they are roommates. Jack finds that he welcomes Kendall's presence, and for more than just her amazing cooking skills.
"Christ, Kendall. I'm trying to be a gentleman here, and you're not helping."
"I don't want you to be a gentleman."
"Yeah, I got that. But do me a favor and put your shirt on anyway."
Kendall has been a huge help to him; she pushes him to work on regaining what he'd lost in the accident and helps with the cabin repairs. Jack really isn't interested in a long-term relationship, but Kendall is different from the women previously in his life. They really have a chance to get to know each other when they're stuck in the cabin due to an impending snow storm. As their feelings grow, Jack finds it more and more difficult to correct Kendall's misconception over his identity even though time is running out.
"Jeez, I try to help a guy out, break my back knocking out a freakin' ceiling, sweep and dust, do his laundry, and cook dinner, and do I get so much as a thank-you? No. All I get is an angry man stomping around in a towel."
But then when she thought about it that wasn't such a bad trade after all.
Home to You is a humor-filled romance about coming home. Robin Kaye delivered a fun and sexy romance with plenty of banter between Jack and Kendall. Ms. Kaye created strong and interesting secondary characters. Fans of Jessica Lemmon and Kate Meader will enjoy this humorous contemporary romance.
Book Info:

Published April 7th 2015 by Signet
From the award-winning author of the Bad Boys of Red Hook series, a new novel about finding love where you least expect it…
Jackson Sullivan III has always lived up to his uncle's expectations, until his career is sidelined, leaving him lost and in need of a retreat to his family's cabin. But his solitude is interrupted by a beautiful visitor whose combative feelings about the Sullivans lead Jax to a surprising declaration: he pretends to be someone else.
Though she hasn't seen the privileged scion since she was a child, Kendall Watkins hates everything Jackson Sullivan represents. She should know: her parents have managed the Sullivan estate for years. In need of her own peace and quiet, she heads to the cabin, never expecting to come face to face with the most handsome man she's ever met. Soon stranded by a violent nor'easter, Jax and Kendall end up sharing more than they dreamed. But Jax knows that when the storm clears, his true identity will be revealed, and Kendall will be left with a betrayal that may be too great to forgive…