In Homecoming (Billionaire Brothers #4) by Lily Everett, Lily gives us the stories of the 3 Harrington brothers.
In The Firefly Cafe, 'bad boy' Dylan Harrington is looking for escape and some alone time. He heads to Sanctuary Island to stay in the home his Grandparents left the brothers. Instead of being alone though, he finds Penny and her son living in the house as care takers. Dylan is drawn to Penny as much as she is to him, but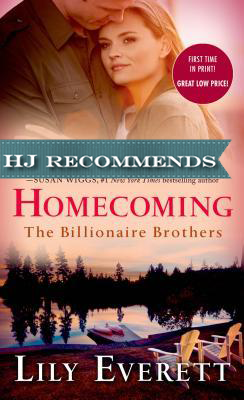 Dylan is keeping a secret. As things between Dylan and Penny heat up, so does the burning of the secret in Dylan. When the truth comes out and Penny feels completely betrayed, will what they had be over just as it was beginning?
In The Summer Cottage, Logan, the middle Harrington, has a big part of the family business and is very business driven. When he collapses in exhaustion, he is whisked away to Sanctuary Island by his assistant Jessica for an enforced time of rest and relaxation. If only Logan can figure out how to do that! Jessica might be able to help him with that… Logan does not like being told what to do, but this time he doesn't have a choice. And the heat building between him and Jessica is soon impossible to ignore. Jessica is a bit of a mystery though, and past hurts have kept her far away from relationships. Can she have that with Logan? Is an island romance all they are destined to have, or is it more than that?
In Island Road, Miles is stunned by his brother's enchantment of Sanctuary Island, and the changes they are rapidly making in their lives. He heads to Sanctuary Island with the sole purpose of stopping them from making what he sees as big mistakes. All business and with no time for relationships, Miles can't even understand them. When he gets to Sanctuary Island, he meets his match in Greta. Greta is just as protective of her friends as Miles is of his brothers and she is determined not to let Mile's ruin their happiness. Miles and Greta end up spending a lot of time together, even if they do have different agendas. They get to know each other very well, and start to have fun together. Not only that, but the both develop unexpected feelings for each other. Opening each others eyes to a different outlook on life, the future starts to look a lot brighter. But when Greta finds out things she wasn't meant to, she is heart broken and loses all trust in Miles. Have they lost their chance to be together?
Homecoming is a fast paced, well written book. I loved the three different stories Lily gives, the lives of three brothers who have never quite felt whole since their parents deaths. Through Lily's writing we experience their different reactions, and how this tragedy helped shape who they are today. The stories are not long, but Lily manages to give us a strong sense of character for not only the brothers, but the women. Homecoming is a quick read, and Lily takes you right to the heart of the story, feeling for the characters and their experiences. Despite the billionaire status of the Harrington brothers, I felt like they were realistic and believable characters.
The maturity of the characters really stood out for me, and how their life experiences shaped them. With strong, independent people, each with a different story to tell, Lily's smooth writing easily sucks you in to experience Island life with them. I love the setting and the descriptions Lily gives us of Sanctuary Island and the people there! She makes it a place I'd love to visit.
I'd highly recommend Homecoming to any romance reader looking to get lost in the pages of love!
Book Info:

Published July 29th 2014 by St. Martin's Paperbacks | (Billionaire Brothers #4)
Three billionaire brothers are about to discover exactly where they belong, in this romance from Lily Everett.Billionaire brothers Dylan, Logan, and Miles Harrington have everything they could ever want…except love. Now they're about to travel to the magical, windswept refuge of Sanctuary Island where they'll discover that power, fame and fortune don't mean a thing without someone to share it with. Homecoming
Dylan Harrington, the infamous "Bad Boy Billionaire," decides to escape his life of scandalous escapades for some R & R on Sanctuary Island. He never expects his harmless flirtation with a waitress at the Firefly Café to make him long for a simpler life. For his brother Logan Harrington, it takes a visit to Sanctuary lsland to make him recognize his true feelings for his assistant Jessica. And when eldest brother Miles travels to Sanctuary Island to knock some sense into his love struck siblings, he doesn't expect to be blindsided by lifelong local Greta. Can the jet-setting billionaire whisk a small-town girl away to his life of luxury…or will the homey pleasures of Sanctuary Island win him over first?An incredible story of love, forgiveness, healing, and joy."—Debbie Macomber, #1 New York Times bestselling author on Sanctuary Island