Hooked on Trouble by Kelly Siskind: During a girls trip to Aspen, Raven met Nico and was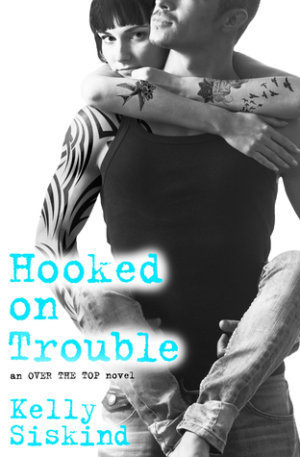 instantly attracted to him. The normally guarded Raven ended up spending the night with him and divulging some of her deepest secrets believing they shared an intense connection. When he left the next day and never got in touch with her again, she was devastated that she ever opened herself up to someone. Eighteen months later and she and Nico now live in the same town and – making matters more awkward – her friends are now in relationships with his friends ensuring they will see each other often.
Nico has not forgotten Raven and regrets how he left things with her and that he never called. He still wants Raven and now wants a relationship with her, but he knows that he has an uphill battle to convince her to trust him again. He is committed to making things work and proving himself to her, and luckily Raven is still very physically attracted to him and finds it difficult to resist his advances. The question is will she be able to ever risk her heart to him again.
Both Nico and Raven had difficult childhoods and messy family situations, which bonds them but also makes both of them leery of love. A good portion of their story explores both of their current and past families issues, and this was interesting, but I would have preferred more Raven and Nico and less of their families.
Hooked on Trouble is a nice romance that was also surprisingly sexy. I can't say it is particularly memorable or original. This is my first book by Kelly Siskind that I have read, and I will definitely pick up more of her work. I am particularly interested in reading the first two books of this series and learning the stories of Raven and Nico's friends.

Book Info:

Publication: 1/10/17 | Forever Yours | Over The Top #3
The last time Raven did "real" was sixteen months ago, when she spent one unforgettable night with the tattooed, impossibly sexy Nico, and then he disappeared the next day. Since then, she's kept her guard up and her feelings to herself. She doesn't have time for relationship drama when she's busy searching for her long lost sister.
Nico hasn't stopped thinking about Raven—her sultry curves, inked skin, and the fact that he ditched her after their night together. Now that they're living in the same city, he knows this is his chance to make things right. What better way to prove to Raven he's for real than helping her find her sister? But when the lines between right and wrong start to blur, putting his job on the line, Nico has to decide if the risk is worth the ultimate reward.