In Hope Ignites by Jaci Burton, you will be swept into the world of cattle ranching and movie stardom…an intriguing combination to say the least!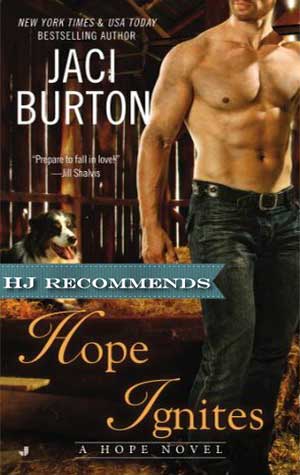 Logan is a cattle rancher, on a huge spread owned by him and his brothers, in Hope. He is content with his isolated life, that's just how he likes it, or so he's convinced himself. He has no desire for any sort of relationship with a woman, if he wants a woman's companionship it's easy enough for him to get, no strings attached. He doesn't believe in love or happily ever after, especially having witnessed his father and mother's marriage.
"He wasn't a promises kind of guy, and not a forever kind of guy, either. He'd seen the havoc created when a woman hated the life he lived, and he'd never bring that down on a woman. Or on himself. So, sex? Hell yeah. Relationships, or, God forbid, love? Not for him. He'd never go through the hell his father had."
Logan is not interested in movies or movie stars, so when he rents part of his property to a film crew, he has no desire to become involved in any of it. His housekeeper and surrogate mother Martha, is though, and pushes him into at least welcoming the crew. He is not at all prepared for fun loving movie star Desiree Jenkins…nor is he prepared for the intensity of the feelings she makes him feel. Feelings he believes he has no business feeling. Des loves Logan's ranch…and she is quite fond of Logan. There is an instant attraction for her to this big strong, gruff rancher. And despite his unwelcoming nature, and sometimes just plain rudeness, Des wants to get to know him better. Before Logan knows it, he is spending a lot of time with Des…she is quickly becoming a welcome sight. The chemistry between them is intense – and irresistible for both of them. Can they both enjoy this gift of time together with no promises for a future? At first that seems like it would be easy…but Des is falling hard for Logan. At times she craves the quietness a life on the ranch would bring, a welcome break from the craziness that is her life sometimes. But can she convince Logan they can make a real relationship work? Logan is fighting it with all he's got, even if it means more heart ache and loneliness?
Jaci gives us a true romance in Hope Ignites! Even though we get to know Des well and get a feel for her background, Hope Ignites is Logan's story, and what a story it is! He is the heart of Hope Ignites, and he will work his way into your heart. It was easy to feel attached to Logan and to care for him…especially given his past and issues with his mother and how that have shaped who he is today. Des and Logan are a realistic hero and heroine. Despite being a movie star, Des is easy to relate to. She is open, loving, and loyal. She also has a big heart, one that cares a lot…but she's not going to chase someone who doesn't want to be caught. Both of them are people I'd love to spend time with.
The heat between Logan and Des is outstanding and Jaci gives us some great love scenes that are well written and don't take away from the story line, but are an important part of it. I loved the maturity of the characters, the openness of them, and that they don't play games. Both of them are honest about their feelings. There are lots of great secondary characters that add strength and dimension to Hope Ignites, including the reappearance of Luke and Emma from Hope Flames. Although they continue along in this series from the side lines, Hope Ignites can definitely be read as a stand alone book.
Overall I found Hope Ignites to be a well paced, smoothly written book that has great flow, scenes, and characters. Jaci's descriptions of the ranch will make you feel like you are on it too…right in the thick of things with Logan and Des.
I would highly recommend Hope Ignites to any romance reader!
Book Info:

Published March 25th 2014 by Jove
Logan McCormack likes his isolated life on the ranch, until a movie crew starts filming there. When actress Desiree Jenkins blows into his life, she wrecks it harder than the Oklahoma winds with her brutal honesty and soft touch. Des knows this is a temporary stay, but she loves the open freedom of the land, and for the first time in her life, Des feels like she might have found a place she can call home, with a man she might be falling in love with. But Logan's heart is tougher than the soil beneath them—can she convince him that they belong together?