Hot Zone is the second novella in Anne Marsh's new spin-off series, The Hotshots. It features Dade Johnson, second-in-command of the Big Bear Rogue hotshots. He has spent his entire adult life fighting fires. It is not until he met Sarah Jo, a scorchingly sexy free-spirit that he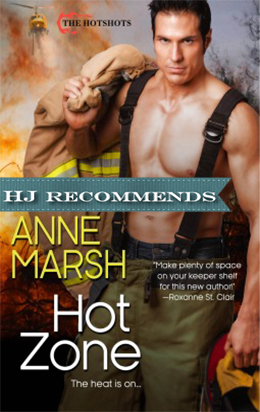 discovered his true passion.
On the run and hiding out in a fire camp always felt temporary until a dare puts her in the arms of the sexy, ash covered, hotshot Dade. Sarah Jo quickly ascertains that the spark between them is hotter than the wildfires his team fights daily. Sarah Jo is an adorably quirky character. I thought the author did an incredible job tossing in bonus details (i.e. her t-shirts) to maintain my interest.
The romance was accelerated, yet authentic. The compact story length left me wanting more. I would love to read an extension of their story – even as a subplot of a future novel.
Congrats Anne Marsh on igniting a fire that is categorically a four-alarm.
Book Info:

January 16th 2014 by Kensington Books | The Hotshots #2
FIGHTING FIRE IS HIS NATURE
To Dade Johnson, fire is a danger he can handle. But the blaze he feels from the moment he lays eyes—and hands, and mouth—on Sarah Jo is too hot to handle. Something about the free-spirited camp cook has him throwing caution to the wind. Little does the hotshots' second-in-command know he's cozying up with a suspected arsonist….
SHE CAN'T HELP FANNING THE FLAMES
Sarah Jo knows she should steer clear of Dade. A bona fide hero who battles wildland fires every day deserves better than a woman on the run. But their five-alarm attraction has Sarah Jo too weak in the knees to resist playing with fire—until her past catches up with her. Soon, she'll have to choose between surrendering her secrets—or taking them both down in flames….