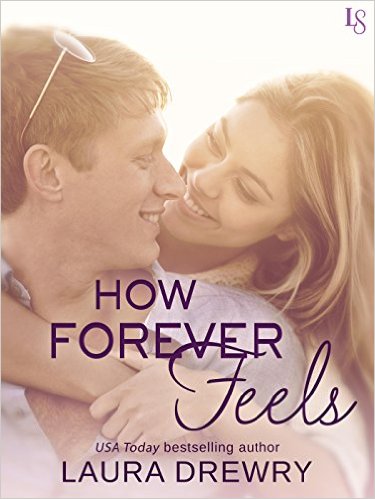 In How Forever Feels (Friends First #4) by Laura Drewry, Maya McKay never thought she'd see Jack again. He's her ex-husband's best friend, and after everything that happened, it's not as if she had any reason to believe they'd remain friends. Not when he shares a brotherly-like bond with her ex. Seeing Jack again brings back old memories. But how can she consider giving him a chance, when she's just been offered the opportunity to have the one thing in her life that she desperately wants.
Jack Rhodes made a stupid mistake when he first met Maya by walking away, all out of loyalty for his best friend. Seeing her again, stirs up old feelings with full-force. Feelings that never went away, yet for some reason, he didn't act upon even after she and Will divorced. However, that's all about to change. No longer can he deny them a chance at forever, even if it means losing his best friend, and the only family he's ever known.
Being the fourth book for this series, and the fact that I haven't read the previous ones, I found this could easily be read as a stand-alone. It's a steady-paced story about second chances, and two main characters needing to make big decisions, if they're ever to achieve happy ever after. I loved how it started by introducing the main characters and their past history really well. It was an awkward moment from Maya's point of view, one I couldn't help laugh at. She was a bit of a klutz when she comes face-to-face with Jack again.
"And that'll be a ten from the Canadian judge," Jack announced, using the beer bottle as a mic, "for sticking the landing with such grace and style."
The dialogue kept me interested, because of the big decision Maya had to make, which was not an easy choice for her. Especially when her choices were Jack and something she really wanted in her life. There was some amusing banter between Maya and Jack as well as from the secondary characters. There was also some deep dialogue, as Jack struggles to decide between love and loyalty. I could certainly understand why he was so torn, as I learned more of his back story. He owed Will's family so much.
I liked both characters, but Jack didn't win me over completely until towards the end, whereas Maya, I liked her from the very beginning. Both are extremely loyal, but what I liked most was how zealous they were about their careers, especially Jack. His job certainly helped him assimilate with Maya's friends, and it even ended up benefiting him. There was also another side to Jack I enjoyed. He could be very persuasive.
"Is that a yes?" he asked, sliding his hands down her back and cupping her butt. "'Cause I'm happy to stand here and keep persuading you if you like."
This moment is where the hero won me over, because he convinced Maya to be the bigger person when it came to her doing something she was totally against. That if she was ever to be completely happy, she needed to forgive those that hurt her in the past. The teasing banter between the pair definitely adds to an already strong chemistry, which has spanned over the years since they first met. And I really enjoyed the moment where their relationship turned intimate, because Jack needed Maya more than ever. She's the light at the end of a dark tunnel for him, after he learns a certain truth. The sex scenes were full of heat, very passionate, and certainly illustrated the few years of chemistry that existed between the pair nicely. They were a couple definitely meant-to-be.
Overall, this was a delightful read where the secondary characters entertained me to the extent that the main ones did. I really liked Ellie, one of Maya's friends, almost as much as I did Jack and Maya. Her football obsession and desire to win in one of the scenes was memorable. Moreover, the secondary characters definitely have me wanting to go back and read their stories. I would recommend this if you're a fan of the second chances trope, as well as a book where the couple has to overcome several obstacles to get their happy ever after.
Book Info:
Bec| 4 Stars | Nope! | No |
Publication: October 13th, 2015 | Loveswept | Friends First #4
From USA Today bestselling author Laura Drewry comes a warm and witty new Friends First novel—perfect for readers of Jill Shalvis and Susan Mallery. How Forever Feels is a sweet tale about the one that got away . . . and the one that came back.
Maya McKay's heart is as big as Jack Rhodes's shoulders are broad. Their chemistry is out of control, but it could never work between them because Jack is more than just best friends with her cheating ex-husband—they're like brothers. Maya, the sensitive, practical florist, has given up on love and is ready to settle for like. But now that Jack's around again, he's stirring up old feelings—and turning Maya's fantasies into irresistible reality.
Jack blew his chance with Maya years ago when he stepped aside for his best friend, Will, and he's still kicking himself about it. Maya was promised forever once before, and she got burned. But when Jack realizes that second chances aren't going to fall out of the sky, he seizes the moment—and the woman he's always loved—to show her how forever truly feels