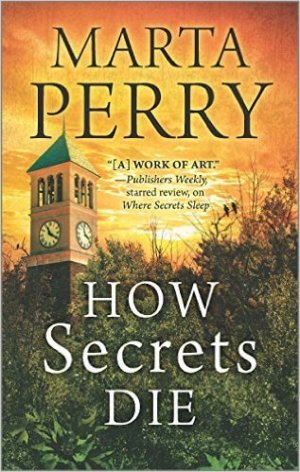 How Secrets Die, by Marta Perry: Marta Perry was one of the first authors whose books got me liking Amish fiction as well as Amish suspense stories, and "How Secrets Die" is no exception, continuing her excellent writing. It was a pleasure to once again read about the people of Laurel Ridge, Pennsylvania, a town and characters brought to life in Perry's earlier books. A town in which the community truly seems like one large family (for the most part).
This novel gives the reader an opportunity to read more about Mac, the local sheriff, who we saw on the periphery in earlier books. The story takes us through his attempts to protect Kate as she digs into the reason behind her brothers death. There are numerous attempts to harm Kate, as the person responsible for killing her brother does not want Kate uncovering the truth, As a journalist, Kate is consistently frustrated by what appears to her as a cover up. I hesitate to say more as I don't want to give too much away!
Loyal readers of Marta Perry will not be disappointed, but rather, will be thrilled by her latest novel. I enjoyed reading about favorite characters such as Alison, Nick, and Sarah, from earlier novels in this series. This is another one of those stories that kept me up late, not wanting to fall asleep until I had finished the last words on the last page.

Book Info:

 June 28, 2016 | HQN |
A hard-hitting reporter, Kate Beaumont unearths the deepest lies and brings harsh truths to light, but the story that lures her to the gentle town of Laurel Ridge, Pennsylvania, is closer to her heart than anyone knows. The details of her half brother's sudden death have never made sense. She owes him justice, yet the one man who can help her is the stubborn sheriff she can't stand.
Protecting his town is Mac Whiting's top priority. Everything else, including pacifying a beautiful crusader on a mission best left resting in peace, is secondary. But as Kate's search embeds her in his world and attracts a skilled criminal, she needs Mac's protection. Drawn together by deadly secrets, they must find a way to trust each other before a killer silences them both.