"She had wanted one last chance with Max, but now she was feeling regrets. Every day with him was driving her crazy."
In How to Catch a Prince by Leanne Banks, Sophie Taylor has fallen for her boss Maxwell Carter. She is his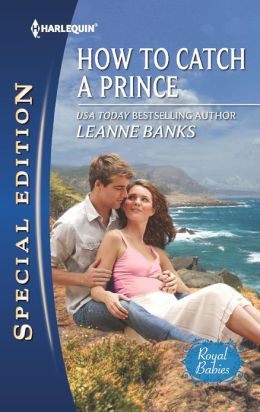 wunderkind assistant while he designs new and restructured roads all over the world. The issue is that he views her as just a coworker and not as a potential girlfriend. To further complicate matters, he recently found out he is a prince in the island country of Chantaine. He didn't know his birth parents growing up and his adopted parents constantly fought so his view on relationships is to always keep it casual.
Max and his company travel to Chantaine to work on the treacherous roads in the northern part of the island and they are wowed by the beautiful scenery there. Upon Sophie's insistence, Max meets his royal siblings for the first time and is pleasantly surprised by how down-to-earth and hardworking they are. Sophie also spends time with the royal ladies and soon finds herself on a date with a friend of the court, much to Max's dismay. He finally admits to himself how beautiful Sophie is and that he actually has feelings for her so he decides to take action. Sophie is overjoyed but realizes it will likely be a short term fling. Can they turn this into a true relationship or will their romance end as soon as they leave the lovely island?
"She was also crazy out of her head that Max still didn't see her as a woman, even in such a beautiful and romantic setting."
How to Catch a Prince is a charming, quick novel full of passion. Chantaine is the perfect setting for romance to bloom and certainly makes this story memorable. Sophie's feelings for Max are easy to relate to and written by Leanne Banks in such a way as to make them feel genuine. I definitely would recommend this novel.
Rating:
Book Info: Publication Date: February 19, 2013 | Series: Harlequin Special Edition (Book 2247)
The Reluctant RoyalEver-practical Maxwell Carter was used to designing highways and streets for VIP motorcades—not waving from the head limo! So when he discovered he was actually a prince of Chantaine by birth, he wasn't impressed—or interested in getting to know his royal family. But his assistant, Sophie Taylor, insisted he give the royals a chance—and Sophie was usually right!As soon as she stepped into paradise and into the hands of Maxwell's matchmaking half sisters, staid Sophie became sexy Sophie. It wasn't long before a strictly business relationship became personal…as personal as another royal-baby-to-be! Would Maxwell's sense of duty doom their new love from the start, or could this reluctant prince fling caution to the wind and give his heart to his Cinderella?