How to Handle a Heartbreaker by Marie Harte is the second book in the McCauley Brothers series, and each and every book just keeps getting better and better.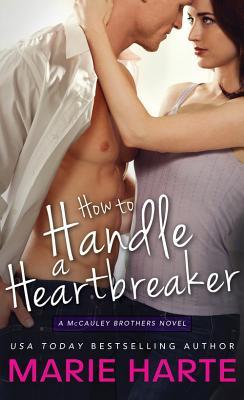 This is about the golden haired prince, the adopted McCauley Brother, Flynn's twin (not), Brody Singer. Raised with the McCauley's, treated like one of the family, Brody had always felt loved and accepted by the clan, but always worried that if they found out what his real family did to him, what they forced him to do himself, that they would turn their back on him, that they would find him unlovable, or worse, they would push him out of the only family that he has ever really known. These feeling of unworthiness follow through to his personal relationships. Never let anyone in, never let them too close, until he lays his eyes on Abby Dunn. Mike McCauley's neighbor and the girl that looks so much like Mike's dead wife and the woman that he secretly had a crush on.
Abby Dunn is a closet erotica romance writer, web page designer and all around shy girl. She has sworn off men after being belittled and berated by an ex who thought she was too fat, too weird, too kinky because of her writing and not worth the effort. There are sparks between her and Brody, but Abby is always afraid to take the next step for fear that he will find her wanting.
Both are afraid to fall, but neither are willing to let the other go. Can these two wounded souls write their own Happily Ever After before it's too late.
Ok, I loved Brody and Abby,they had a scorching hot chemistry, they both are a little kinky and they both have quick wit, a great sense of humor and are really perfect for each other. I loved how when they opened up to each other about their past, their short comings each was so protective of the other. Again, we get the great humor and interaction of the rest of the McCauley Clan and little Colin is a riot as always.
I love this series, this author and would HIGHLY recommend this series to anyone that is looking for a hot, sexy, laugh out loud books that will make you want to keep coming back for more.
Book Info:

Published August 5th 2014 by Sourcebooks Casablanca | (The McCauley Brothers #2)
It's lust-at-first-sight when Brody Singer first sees Abby Dunn. Abby looks a lot like a woman he once knew, one who died years ago. But Abby's definitely different—shyer but sexier.
Abby's still trying to put her last disastrous relationship behind her and overcome the flaws her ex wouldn't let her forget. But somehow Brody isn't getting the hint. It doesn't help that when writing her steamy novels, she keeps casting Brody as the hero.
Only Abby can write her own ending—will she choose her own happily-ever-after, or stay safe in her shell?