How to Lose a Duke in Ten Days by Laura Lee Guhrke: Nearly dying by lion attack is a stunning and attention-grabbing way to start a romance novel. You know at the very start that this is not your usual historical romance, and indeed it is not. The prologue starts with Stuart, the Duke of Margrave, lying on African soil, perhaps dying. And besides the immense pain that he is experiencing, all he can think about is Edie, the wife he left behind five years earlier, and whom he hardly knows. In his mind, his overwhelming thought is It's time to go home.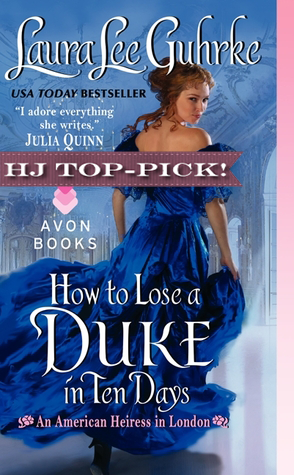 Edie Ann Jewell is an American heiress. She came to London looking for a husband because she could not find one in New York, not only because she is tall, red haired and freckled but because she is "ruined." However, the season was nearly over, and Edie had not caught on, and was facing the horror of having to go back home. Then the Duke of Margrave arrived at a ball where she was, and it was her chance. Tall, handsome, charming, adventurous and broke, Edie sees that the Duke is her ticket to independence and security. She follows him outside, and offered him a deal: she will marry him, save his estates and his family, if he goes to Africa and never comes back. He agrees, because, as he says, he'd "be insane not to."
Edie is not cold, nor a man-hater, she has a deep aversion to intimate relationships because she was not only ruined, she was attacked and molested by a man who, in her innocence and youth, she believed wanted to marry her. Edie is smart and capable, a woman who in five years managed to turn around Stuart's failing fortunes, renovate his many homes, and take care of his grasping relatives. She is also lonely, her closest relationship being with her cheeky and too-clever much younger sister Joanna. Stuart, having faced his mortality, realizes that he would like to have children, that he has feelings for his wife, and that he wants a chance to have more than a marriage of convenience. The moment Stuart comes back into her life, having survived the lion attack, but crippled for life, Edie is thrust into a panic and runs away. Stuart comes after her, and they again strike another bargain: Stuart will have ten days to persuade Edie to stay married and have a real marriage, if he fails, he will agree to a legal separation. Neither of them intend to lose.
He paused and pushed his luck by leaning ever closer to her. "I intend to have you panting for far more than kisses by the time those ten days are up."
"Panting?" she echoed in disbelief. "You think I'll be panting over you?"
He answered her in all sincerity. "I hope so, Edie. Because if I can't make you want me, I don't deserve to have you."
Stuart is a remarkable character. He is strong and affectionate, and once he finds out about why Edie doesn't want an intimate relationship he is angry for her and plots revenge. He does his best to woo her slowly and with care, and he's a man who knows when he's wrong and is not afraid to admit to it. Edie is also strong, but fragile and needs love but is too afraid. These are not one-dimensional characters! There is so much depth and detail to the characters that it is easy to become emotionally involved, and not just remain an avid but dispassionate reader.
Even though Edie has had a terrible experience in her life, the overall atmosphere of the book is not dark. For the most part, Edie does not let what happened to her influence everything in her life, and she's a kindly, capable manager who loves her sister and who has a wicked sense of humor. Stuart could also be brooding upon what he lost, including his past life in Africa as a hunter, explorer and guide, but he comes back to England prepared to make a new start in life, willing to do nearly anything to make it possible, including conspiring with his adolescent sister-in-law and his staff to do so. In the first salvo of Stuart's battle to save his marriage he buys a Fortnum and Mason picnic hamper for Joanna, Edie, and Reeves, Edie's lady's maid:
"I intend to employ all the weapons in my arsenal. And in her defense, Joanna isn't who told me about your love of Fortnum and Mason."
"Then how did you know?"
"Reeves of course. I bought her a hamper, too. You see?" he added, as she gave a groan. "It's not two on one, but three. You'll be even more outnumbered once we reach home. I'll have the other servants on my side as well. Soon, all of us will be aligned in a vast conspiracy to impel you to kiss me."
This is an excellent novel. A sensitive subject is treated delicately, and not romanticized in any way. Both the main characters are human and relatable, and both grow and change during this book, which makes the ending fully satisfying. There is no part in this book where your attention may wander, and the dialogue is lively and snappy. Read this novel! Also, if you don't know what a Fortnum and Mason picnic hamper is, google it. They still exist, and are truly drool-worthy!
Book Info:

Published April 29th 2014 by Avon
They had a deal…
From the moment she met the devil-may-care Duke of Margrave, Edie knew he could change her life. And when he agreed to her outrageous proposal of a marriage of convenience, she was transformed from ruined American heiress to English duchess. Five years later, she's delighted with their arrangement, especially since her husband is living on another continent.
But deals are made to be broken…
By marrying an heiress, Stuart was able to pay his family's enormous debts, and Edie's terms that he leave England forever seemed a small price to pay. But when a brush with death impels him home, he decides it's time for a real marriage with his luscious American bride, and he proposes a bold new bargain: ten days to win her willing kiss. But is ten days enough to win her heart?