How to Lose a Groom in 10 Days by Catherine Mann and Joanne Rock: Can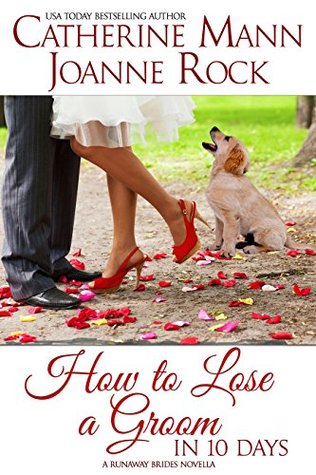 you know if it's forever in less time than baseball's spring training?
Melanie Webb and Grady Hollis were in a whirlwind courtship to say the least. They couldn't have been more different from one another. Melanie was the queen of temp jobs, but only because she had to rush off a lot to take care of her parents. Grady was a big shot baseball player with his career growing every season. Yet somehow these two come together and shhhhh get married? Now Melanie has three days to prove to Grady he doesn't want to be with her and Grady has three days to prove her wrong. The question of course is who will come out batting a thousand?
This is a great quick example of Ms. Mann and Ms. Rock's writing styles, AKA fantastic! Yes it is a novella which means that things aren't as developed as they could be, but the story is fast paced and well written allowing the reader to connect with Melanie and Grady on a basic level. There's not a lot of heat to be found but there are two really big hearts calling out for understanding.
Pick How to Lose a Groom in 10 Days by Catherine Mann and Joanne Rock up for a quick bout of love added to your life.
Book Info:

Published April 5th 2015 by Tule Publishing
He thought their love was a grand slam, until his bride called foul…
After an impulsive courthouse wedding with one of baseball's rising stars, landscaper Melanie Webb wonders if she's fallen victim to lust at first sight. She hardly knows Grady Hollis, the Atlanta outfielder who swooped into her Florida hometown and charmed the socks—and more!—right off her. She couldn't resist when he proposed under the stars right on the outfield she'd worked so hard to maintain. But when the aftermath means moving to Atlanta and following him around the country for his eight-month a year travel schedule, she gets cold feet.
But Grady has never been a man to give up on a dream and Melanie is everything he ever hoped for in a woman. He knows if only he can convince her to come along for the ride, he'll convince her that their forever can be something special… and sizzling too. The road trip brings them both deeper understanding, surprise revelations and a love every bit as fiery as the passion.