In How to Marry a Royal Highlander (The Renegade Royals #4) by Vanessa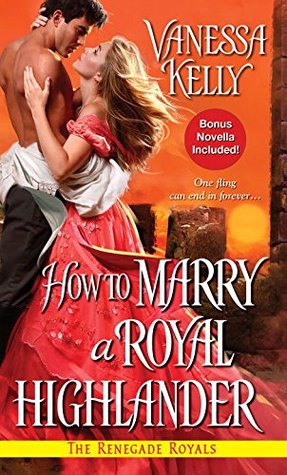 Kelly, Eden "Edie" Whitney has always been able to talk her way out of any trouble. But even her mother, who will usually acquiesce, is demanding she stay out of society's condescending eye since Edie's latest debacle. Sending her to the Scottish Highlands with the accompaniment of handsome, and frustrating, Alasdair "Alec" Gilbride, was a shock. As is the way Edie's feelings for the former spy grows by leaps and bounds as they get to know each other better.
"I always thought you found me to be a great deal of trouble."
He grinned. "I do, but you're the kind of trouble a man can get used to."
Alec's exciting, if not dangerous, career as a spy has come to an end which leaves him no choice but to go back to Scotland and face his family obligations after ten years abroad. He jumps at the chance to escort Miss Whitney from London to his home for a long stay. Alec may be confused about his attraction to the feisty female but he can't bear to part ways with her, even if it means his family will protest. So when he finds himself and Edie under threat of attack from an unknown assailant, he will do anything in his power to keep her safe.
"But you make everything better, Edie," he murmured, pulling back to look at her. His gaze was hot and yet infinitely tender. "And when I'm with you, my life–everything I'm expected to be–finally makes sense."
How to Marry a Royal Highlander was a fast-paced Historical Romance that combined the downside of high London society with the familial issues of clans in the beautiful Scottish Highlands. Trust me, tons of scandal and hijinks ensued.
This was my first foray into The Renegade Royals series but it was so much fun! I think it would have helped to read the previous book, How to Plan a Wedding for a Royal Spy, to have provided the foundation of Alec and Edie's relationship, but it was mostly explained over the course of this story so it worked out okay. I'm sure I will be grabbing book three at some point, though, to get more of Edie's twin sister Evie's story. 😉
Alec and Edie were quite comical together, I thought. They had obvious chemistry but neither knew what to do about it so they jokingly bickered like an old married couple. I liked that their feelings grew over the course of the story at a pretty natural pace so it didn't seem farfetched. The overall storyline helped to push Edie further into Alec's world and his heart making his family issues much more complicated. And I was surprised to see who was trying to harm them when it all came to a conclusion. Love it when a story surprises me!
For a rollicking good time tinged with a bit of mystery (and guys in kilts!) I think romance readers will have a blast with Alec and Edie's story.
Book Info:

June 30th 2015 | by Zebra | The Renegade Royals #4
Illegitimate yet thoroughly irresistible, the Renegade Royals are leaving behind their careers as daring spies for the greatest adventure of all…
At sixteen, Alasdair Gilbride, heir to a Scottish earldom, fled the Highlands and an arranged betrothal. Ten years later, Alasdair must travel home to face his responsibilities. It's a task that would be much easier without the distracting presence of the most enticing woman he's ever met…
After one escapade too many, Eden Whitney has been snubbed by the ton. The solution: rusticating in the Scottish wilderness, miles from all temptation. Except, of course, for brawny, charming Alasdair. The man is so exasperating she'd likely kill him before they reach the border—if someone else weren't trying to do just that. Now Eden and Alasdair are plunging into a scandalous affair with his life and her reputation at stake—and their hearts already irreparably lost…