How to School Your Scoundrel by Juliana Gray is the third book in "Princess in Hiding Trilogy," about a trio of germanic princess from the small principality of Holstein-Schweinwald-Huhnhof. This one concerns the Crown Princess Luisa, destined to be head of state after her father and her husband are assassinated by anarchists. Luisa and her sisters are swept off to England by their uncle, the Duke of Olympia, a master of subterfuge, in order to save their lives. In England, she is compelled to disguise herself as a man, and take a position as the clerk to Philip, the Earl of Somerton. Somerton is an angry, bitter man, disappointed in love and with people in general, but highly intelligent. He is described as being big and strong, with a roman nose, and a dominating personality, but handsome and compelling nonetheless. Luisa, calling herself "Mr. Markham," is as close to an alpha male that a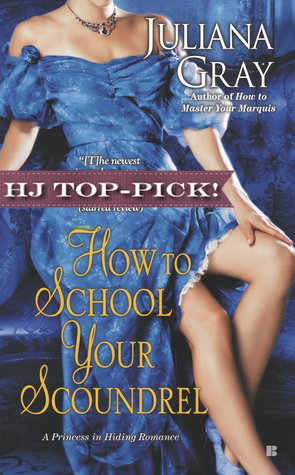 woman can be, having been raised to be the next head of state by her father and her governess, and takes no nonsense from her employer, which very quickly gets his attention. She impresses him with her loyalty also, after he sets her up for a somewhat brutal test. Luisa brings her dog Quincy, a plump little corgi, into the household and it proves to be nearly too much, but Somerton accepts Quincy in the end.
Luisa visits her uncle Olympia weekly, and he asks her to pay attention. She learns that like her uncle, Somerton is a "spymaster" but for a different, rival division. Somerton's estranged wife, who lives in the house with their son, but stays in the nursery with him, is suspected of cheating on Somerton. The Countess of Somerton, whose story can be found in Juliana Gray's "A Gentleman Never Tells," is beautiful and remote, and in love with Sir Roland Penhallow, and not her big brute of a husband at all. Six years previous, the Earl had seen her, wanted her, paid a tremendous amount to marry her, and was then very disappointed to discover that she didn't love him. Luisa, despite a growing affection for Somerton, is dismayed to discover that he is consumed with revenge towards Sir Roland, both because revenge seems beneath Somerton, and because Sir Roland happens to be her cousin. Somerton is a man of great depth of feeling, but he hides this because he would rather be impenetrable than hurt. Because of his mistake with the countess, he tries to push away his growing feelings for Markham. He learns that Markham is a woman, after he rescues her from kidnappers, sick with typhoid, and nurses her back to health at his remote estate. Somerton is full of conflicting emotions, and unable to express any of them aloud.
"Sir?" she whispered. The single word set off an instant chemical reaction inside him: joy and confusion and profound relief. It was true. She was alive. She had deceived him. She had redeemed him. She was full of wiles. She was full of grace. Who was she?
It's all manipulation of course, and the Duke of Olympia is the king of manipulation. By placing Luisa with Somerton the Duke knew that he was putting her in Somerton's path, and probably that he would find her brave and straightforward manner much more enticing than that of a shy and retiring miss. The Duke is counting on Somerton to protect the princess, and he finds himself helpless to resist.
She whispered, "You don't know what you're promising. You don't know who I am."
"Do you think it matters? The only thing that matters is that you're mine, Markham. I protect what's mine, no matter the cost. If it kills me."
There is so much to this book, and it all hangs together in a lovely fashion. There is the drama between Somerton, his countess, and her love Penhallow. There is the entire situation in Holstein-Schweinwald-Huhnhof and the effort to regain the crown for Luisa and to thwart and subdue the anarchists who want to kill Luisa and her sisters. There are betrayals, heartaches and danger. All this revolves around the core of this book, which is the love between a damaged but noble man and a strong and understanding woman. I was surprised to discover that in other books of this series that Somerton was considered to be a villain. I didn't find him particularly villainous, beyond what you would expect from his position as the head of an intelligence unit, and as a betrayed husband. However, romances are often about growth and redemption, and Somerton does grown and change morally and emotionally through the novel.
What I found most remarkable about this book is how Somerton just accepts that he was attracted to Luisa even when she was masquerading as a man. In most books that I've read with a cross-dressing heroine, the hero is usually appalled that he finds a young man attractive in some way, and is filled with relief when he learns that the "young man" is really a very beautiful fully grown adult woman. This doesn't happen here, and it's obvious in the way that he prefers to continue to call her "Markham" even though he knows that her name is Luisa. Eventually, he even says it, that he wanted her from the very first. Luisa is a little shocked, that he wanted her even when he thought she was a man, but he says that it didn't matter, that she was herself no matter what guise she was wearing, and that he wanted the person, not the packaging. I found this refreshing, surprising, and lovely in its own way.
This book is wonderful, but not perfect. Somerton is almost too reserved, and Luisa is nearly perfect. Additionally, be warned that while "How to School Your Scoundrel" can be read on its own, it is likely you will feel that you need to learn more about Luisa and her sisters, and what evil things that Somerton got into before he met Luisa, and you will want to run out and read the rest of the books if you have not before!
Book Info:

Published June 3rd 2014 by Berkley
Princess Luisa has devoted her life to duty, quietly preparing to succeed her father as ruler. Nothing, however, primed her to live on the run, disguised as a personal secretary to a notorious English scoundrel. The earl is just the man to help her reclaim her throne, but Luisa is drawn to her powerful employer in ways she never imagined…
Philip, Earl of Somerton, has spent six years married to a woman in love with another man—he refuses to become a fool due to imprudent emotions ever again. Only, as his carefully laid plans for vengeance falter, fate hands him hope for redemption in the form of a beautiful and determined young princess who draws him into a risky game of secrets, seduction, and betrayal. And while his cunning may be enough to save her life, nothing can save him from losing his heart…