In How to Tame a Beast in Seven Days (The Embraced #1) by Kerrelyn Sparks, Raised in a convent with four other orphans on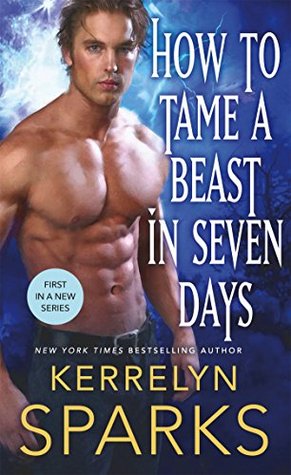 the Isle of Moon, Luciana and her sisters of the heart formed their own family. Each of them have a gift, making them one of the Embraced. Something that could get them killed on the mainland. But Luciana's gift of foresight and ability to see and interact with the dead has never been an issue. Until a man shows up on the island claiming to be her father. He explains he will be executed if she doesn't agree to marry Lord Leofric, aka The Beast of Benwick. Luciana agrees even though she must play a role she's not accustomed to. Plus she must marry a man she's never met. But one look at Lord Leo and she doesn't care what people say about him. She's more than willing to risk her safety to be held in his strong, capable arms.
The back of her neck tingled. "Why would you want to lose your power?"
"So I can touch you. Kiss you." His voice lowered to a whisper. "Bed you."
The tingle on her neck skittered down her spine. Then he might be able to touch her someday? And she hadn't imagined the hunger in his eyes. It was real.
As Lord Protector of the Realm, Leo risks his life while he fights to keep his people safe. But in return, the people of Eberon fear him because of his gift as an Embraced. Able to harness the power of lightning, his touch enables him to become a deadly fighter. But it also means he cannot risk touching anyone else as he might harm them–hence his nickname The Beast. So when Leo meets his betrothed for the first time and is spellbound by her beauty, he realizes how much his supposed gift truly costs him. For he would give anything to be able to embrace her. And as danger lurks around every corner, Leo and his future bride set off to save themselves and the people of Eberon. But they just might end up falling deeply in love along the way.
'No matter how much he wanted this woman, no matter how much he felt she was destined for him, he could never touch her. His heart squeezed painfully in his chest. How cruel of fate to reveal her to him only to keep her beyond his reach.'
How to Tame a Beast in Seven Days was a thrilling way to begin Kerrelyn Sparks' new fantasy series, The Embraced. Fantastical creatures, a corrupt king, time-tested friendships, numerous deceptions, and true love…what more could you ask for out of a novel?
She waved her arms, attempting to draw everyone's attention, and raised her voice as loud as she could. "He's not a Beast!"
Silence fell once again, and Luciana panted to catch her breath. Then she saw him. Saw the astonished look on his face.
And her heart wrenched. "He's not a Beast," she whispered.
I'm a fan of Kerrelyn Sparks' work anyway but this book alone would have had me singing her praises. It truly did have everything I look for in a fantasy. With her incredible world-building, unique and intriguing characters, lighthearted sense of humor, and the compelling storytelling, this book had me completely wrapped up in it. In particular I loved how friendship, loyalty, and family–whether by blood or of the heart–were integral to how absolutely everything worked out in the end. And there was always a sense of hopefulness, even when Leo and Luciana were fighting for everyone's safety and the odds seemed stacked against them.
Speaking of Leo and Luciana, I couldn't have enjoyed them more. And I thought they made a perfect pair, each of them having spent their childhood feeling alone or abandoned and longing for a close connection with someone. In Luciana's case, she grew up with four 'adopted sisters' on the Isle of Moon and had their love and support, but wondered if she had family elsewhere. For Leo, his family was complicated, considering his uncle was out to end his life, but thankfully he did have Nevis and some other friends to back him up. Because of his gift, though, he couldn't even get a hug or a simple touch on his hand for fear of harming someone. I love, love, loved that Luciana was not afraid of Leo and she found ways to comfort him and stand up for her betrothed. That changed everything between them and you could just sense how both of their hearts opened up to each other from there on. *dreamy sigh*
A love to cherish for the ages. A constant battle between four kingdoms. And a new day dawning for the people of Eberon. How to Tame a Beast in Seven Days is just the start of what I am certain will be a bunch of amazing stories this new series will bring us.
Book Info:

Publication: Published March 7th 2017 | St. Martin's Paperbacks | The Embraced #1
From the brilliant imagination of Kerrelyn Sparks comes a bold new fantasy romance series in which passion and magic collide. Behold the Embraced…
As one of the Embraced—one born with magical powers—the beautiful, innocent Luciana escaped certain death after her father hid her away on the Isle of Moon. Now, nineteen years later, her father has returned with a frightening request. He will be executed unless Luciana returns to the mainland and marries a man feared throughout the land: a terrifying brute known as the Beast.
Luciana accepts her fate and agrees to wed the Beast—Lord Leo—in order to save her father. Soon she learns that her betrothed is also one of the Embraced. With the ability to wield lightning, Leo's immense power strikes fear into the hearts of men. . .and his mere touch can put an end to a woman's life. But Luciana cannot deny the passion that burns between them. How can she resist the man who scorches her soul and makes her feel intoxicated with desire—even if surrendering to him could destroy them both?