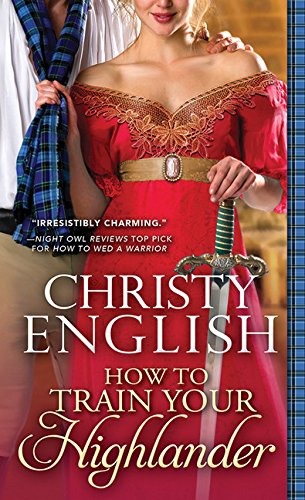 How to Train Your Highlander by Christy English is the third stand-alone book in Christy English's Broadswords and Ballrooms series, and it is a fun, passionate and loving story with two endearing protagonists. While it is not necessary, readers will benefit if the prior two books in the series are read before starting How to Train Your Highlander, because the characters are introduced and developed in the earlier books, especially the heroine, Mary Elizabeth.
Speaking of Mary Elizabeth, she is an independent, young Scottish Highlander whose mother has sent her unhappily to England to find a husband. Mary is not a big fan of the English – their formal ways do not always vibe with her hellion personality. She likes to fish, sword fight, carry daggers, ride astride wearing pants and does not display the expected reverence for the nobility. Most importantly, Mary Elizabeth does not want to leave Scotland and live in England for an English husband. She cannot imagine living elsewhere and also doesn't believe she would ever fit in elsewhere.
Mary Elizabeth arrives at the estate of her mother's friend, the Duchess of Northumberland's, for a house party and meets what she assumes is a stable hand, Harry. Harry isn't just Stable Hand Harry; he's Harold Percy, Duke of Northumberland. He doesn't correct Mary's assumption, and the two begin to develop a friendship. Harry is adorable. He's a loner and often called the Recluse Duke. He has an interesting dichotomy to his personality. In one aspect, he is a duke in every sense of the title. He's serious with a strong sense of duty and a high an expectation for the proper behavior and treatment of a duke.
"A duke did not smile so openly, but this once, he might make an exception, as there was no one nearby to see him do it."
He's also fairly un-duke-like in that he enjoys gardening – as in he is the one actually digging in the garden – and takes and works right alongside his stable hands tending to his horses. He is a little odd in a lovable way, and I really enjoyed hearing his thoughts. He (and Mary too) often made me laugh.
Harry is bowled over by Mary Elizabeth, because he has never met anyone so unrestrained in her behavior. He is a little appalled at first by her, but he is also very attracted to her. Mary is definitely her own woman and does not give a fig about what other people think. The only reason she attempts (barely) to conform to English standards is for her mother. This is adorably evident when she uses "Her Worship" instead of "Her Grace." She is charmingly unaware and Harry soon discovers this and finds it less and less appalling and more and more appealing. She's his opposite in many ways, and they are truly well matched.
Of course, Mary Elizabeth doesn't yet realize that Harry is a duke, and this is a good thing, because she's wants nothing romantically to do with a duke. Harry doesn't come clean about his identity, because he is enjoying the experience of someone treating him like a normal man, but the longer Harry delays disclosing the truth – the bigger potential for backlash from Mary when she discovers his identity. Even considering this, it is nice for both of them to get to know each other in a bit of a bubble from the pressures of society, and the experience feels a little magical and pure. The ultimate question is whether or not Mary Elizabeth's feelings for Harry will be stronger than her desire to return to and stay in the Highlands.
I thoroughly enjoyed Harry and Mary Elizabeth in How to Train Your Highlander. Their story is truly romantic and they are both refreshingly able to admit their feelings for each other.
"For Harry, it seemed, was a man born to be kissed, and she the woman born to do it."
The story did drag a bit after the halfway point and could almost have almost been a novella. It started to feel like things were being stretched in order to be a full-length novel, but How to Train Your Highlander is still a satisfying and recommendable read. I will definitely catch up on the series and pick up the first two books – How to Seduce a Scot and How to Wed a Warrior.
Book Info:

 12/06/2016 | Sourcebooks Casablanca | Broadswords and Ballrooms #3
She's the Hellion of Hyde Park…
A foolproof plan to avoid marriage:
1. Always carry at least three blades.
2. Ride circles around any man.
3. Never get caught in a handsome duke's arms.
Wild Highlander Mary Elizabeth Waters is living on borrowed time. She's managed to dodge the marriage banns up to now, but even Englishmen can only be put off for so long…and there's one in particular who has her in his sights.
Harold Percy, Duke of Northumberland, is enchanted by the beautiful hellion who outrides every man on his estate and dances Scottish reels while the ton looks on in horror. The more he sees Mary, the more he knows he has to have her, tradition and good sense be damned. But what's a powerful man to do when the Highland spitfire of his dreams has no desire to be tamed…
Broadswords and Ballrooms:
How to Seduce a Scot
How to Wed a Warrior
How to Train Your Highlander