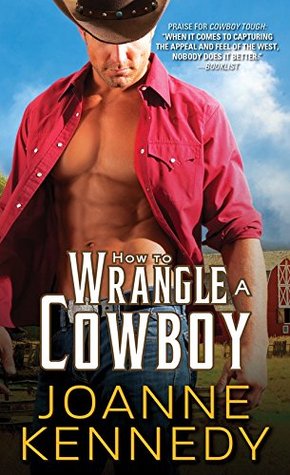 In How to Wrangle a Cowboy (Cowboys of Decker Ranch #3) by Joanne Kennedy, Lindsey Ward is stunned by the fact that her late grandfather has left his ranch to her. She wasn't expecting him to include her in his will, not after she made the worst decision of her life — choosing her fiancé over her family. However, the moment she takes control of the ranch, it seems she might not be able to keep it when someone blackmails her. By making her believe they have more of a claim on the property.
Ever since his son came to live with him, Shane Lockhart has wanted to raise his child on the ranch that he now calls home. But with the ranch changing hands to his late boss's granddaughter, and it looking like she might sell the place, Shane doesn't know what he's going to do. He's been the ranch's foreman for years, and he's not ready to leave. All he needs to do is find a way to change Lindsey's mind.
"Let's get this sucker in the ground." Grace Ward turned away from the gleaming casket and tugged at her escort's arm. "He was a good-lookin' sumnabitch and it's a shame he's dead, but, Lord, that preacher about talked us all into our graves already, and here he's getting ready to start jawing again."
I tend to read a lot of romance novels containing cowboys, so this book was always going to interest me by the title alone. And once I read the opening line where Lindsey's grandma wants the proceedings of her husband's funeral moving faster, I was hooked to the fast-paced plot that provided lots of obstacles, for this couple to overcome. Such as Shane's hostility towards Lindsey, the secret the heroine is keeping that has her needing money fast, the fact that Shane doesn't like her plans for what she intends to do with the ranch, and the trouble Lindsey finds herself in that she may not be able to get herself out of.
A perfect blend of playful and intense dialogue really drew me into this story, as did the two main characters back stories. And while at first, I was taken aback by Shane's hostility towards Lindsey; the more I read, the more I began to understand why. He believed she didn't appreciate the bonds of family, and couldn't fathom – for even a second — how she could believe her grandfather would cheat on her grandma when they were so much in love? Then again, after her husband, it didn't surprise me that the heroine had lost her faith in men.
"Shoot." She kicked at the doormat. "He stole something of mine, and I need to get it back."
She was blushing again, but who cared? She blushed so much around Shane Lockhart that it was starting to feel normal.
"Let me guess," Shane said."Underwear?"
"How did you know?"
"Psychic." Shane grinned, enjoying her confusion.
Opposites attract was how I'd describe Lindsey and Shane, and — I thought — was what made their intimacy so passionate once they finally decided to explore their intense chemistry. As every conversation they have with a couple of secondary characters that want them together, and every wrong assumption they make about the other increases the sexual tension between them. Enough so, that I was thinking, I hope they advance their relationship sooner rather than later. However, they do have a few things in common such as being trustworthy and loyal, especially when it comes to Lindsey keeping a secret she believes will keep someone she loves from being hurt. They both also have some serious trust issues that make it hard for them to be civil to each other — at least at first. Until Lindsey's grandma gives her some knowledge of Shane's past that makes the heroine realize he really is a good guy.
Lindsey's smart, brave and stubborn. Her return to the ranch has really put things into perspective for her, so she's also very determined to follow the dream she had for the ranch when she was younger, which threatens to derail her relationship with Shane. As he believes it's a risk; a risk he doesn't know whether he can take with her. While Shane, he didn't have an easy childhood. If it wasn't for his foster brothers, and the couple that eventually adopted him, he might not have turned out the good, hardworking, family-oriented man that he is. The relationship he has with his son, Cody, and Lindsey's grandma are quite special ones. They were two secondary characters I absolutely adored, as they weren't afraid to express their opinions when it came to what they wanted for this couple. What's more, Cody was good for the heroine after her own devastating loss.
"I'd be very, very proud if you were my son," she continued. "But your dad has to find just the right person to marry, and that person has to want to marry him."
Cody furrowed his brow. "Don't you want to marry my dad?"
In the end, Ms. Kennedy has penned a marvelous tale with well-crafted characters, an entertaining plot that grabbed my attention from the start, and had me eagerly anticipating how this story would end when Lindsey finds herself in trouble while trying to rescue some neglected animals. I really enjoyed how it ended, as it makes Shane realize that the heroine should follow her dreams, and unites them just as Cody hoped for. I would recommend How to Wrangle a Cowboy by Joanne Kennedy, if you enjoy the opposites attract trope, or stories containing a hot cowboy.
Book Info:

February 2nd, 2016 | Sourcebooks Casablanca | Cowboys of Decker Ranch #3
Lindsey Ward is shocked when her grandfather leaves his ranch to her, complete with a ranch foreman who's difficult and annoyingly attractive. Lindsey thinks she has no choice but to sell the ranch, but Shane Lockhart is determined to change her mind…
Shane is determined that working and living at the Ward ranch is the only way to raise his young son properly. In order to stay at the ranch he calls home, Shane will have to warm the heart of the most stubborn, appealing woman he's ever met – opening up his own heart in the process.