In Hungry Like The Wolf (SWAT #1) by Paige Tyler, Mac is an investigative journalist with a strong belief in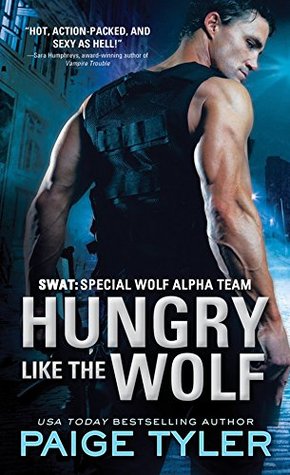 revealing truths…no matter what the cost or fall out. When she becomes convinced that something is amiss with Dallas's SWAT team, she sets out to do what ever she can to investigate the team and uncover what they must be hiding. She doesn't count on Gage though…
Gage is the leader of his SWAT pack. Not only are they werewolves, they are the Special Wolf Alpha Team. A team whose secret no one can know about. They live a dangerous life, and their secret must stay that way. Gage doesn't count on someone like Mac entering his life though…not only determined to uncover the secrets she's sure they have, but finding a way under his skin, making him feel and care about someone other than his pack. Mac didn't count on Gage making her lose her inhibitions and open up so much to him, making her feel…he makes her feel out of control and her body can't help but respond to him.
Gage knows Mac isn't being totally honest with him as he allows her access to the SWAT compound, but he can't resist her. He can't stop thinking about her. As the slow burning sizzle between them escalates, so does the danger they both face because of his job. Never believing in "The One", but falling faster than he though possible for Mac, Gage will do whatever it takes to protect her – even if it will bring a halt to what is boiling between them. His actions have more ramifications than he anticipated though and suddenly what he had with Mac looks like it was all a ruse and everything he holds dear is threatened.
Hungry Like The Wolf is a great start to Paige's SWAT series. Fast paced, easy to read and follow, Paige writes with smooth flow and a great style. In Hungry Like The Wolf, Mac and Gage are both strong characters who are remarkable well in tune with each other…making me think there maybe is some truth to every werewolf having "The One" out there waiting for him. Mac is a strong, independent, stubborn woman who I had a much harder time liking than Gage. She is convinced that her way is the right way, the only way with regards to revealing all through her investigative reporting. She seems to see things as more black and white, with no gray areas to life and life circumstances. I did admire her persistence and the way that she grew through Hungry Like The Wolf. I really liked Gage…and Paige's descriptions of Gage and his pack are enough to make any woman drool 🙂 Very easy to picture and fall a bit in love with! I like how tight the pack is and their loyalty to one another really managed to stand out in Hungry Like The Wolf. As a couple I like how Mac and Gage's relationship progressed in a believable way. The chemistry between them is very hot!
I liked that in Hungry Like The Wolf Paige writes mostly about the present time with just enough background to give a sense of Gage, but not enough to overwhelm or take away from what is happening now. I would have liked a bit more background on the whole werewolf idea, but I do anticipate more of this being explored as the SWAT series progresses.
All of the secondary characters are a great addition to the story, all with a little to add, and most of them (the pack) making me want more of them.
I like how Paige drew me into Hungry Like The Wolf, and how she pulls together romance, suspense, great character chemistry and a twist of paranormal that's not entirely unbelievable. All of these are great elements that are well woven together in Hungry Like The Wolf for a fast paced, hot adventure.
I'd recommend Hungry Like The Wolf to romantic suspense readers who like some paranormal in the mix.
Book Info:

Published January 6th 2015 by Sourcebooks Casablanca | (SWAT #1)
INTRODUCING SWAT: SPECIAL WOLF ALPHA TEAM
They're tight
They're on target
They're as alpha as men can get.
The Dallas SWAT team is hiding one helluva secret . . . they're a pack of wolf shifters.
The team of elite sharpshooters is ultra-secretive—and also the darlings of Dallas. This doesn't sit well with investigative journalist Mackenzie Stone. They must be hiding something . . . and she's determined to find out what.
Keeping Mac at a distance proves impossible for SWAT team commander Gage Dixon. She's smart, sexy, and makes him feel alive for the first time in years. But she's getting dangerously close to the truth—and perilously close to his heart…