In Hunt the Dawn by Abbie Roads, FBI consultant Lathan Montgomery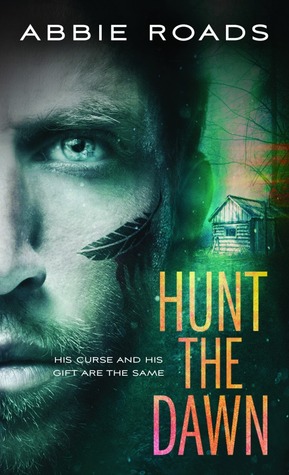 is on the hunt for a serial killer. He can barely hear, but he has another ability–the ability to into people's minds based on their scents. When he meets Evanee Brown, he realizes there is something special about her; when she's around, he can control his abilities better, and when she touches him, he can hear.
Evanee Brown had a horrific childhood, but when Lathan saves her from her stepbrother, she feels an instant connection with him. When her dreams start to provide clues linked to Lathan's serial killer case, she can't explain what's happening for fear he would think she's crazy. Lathan's friend and FBI associate Gill believes that Evanee might be working with the serial killer, but Lathan feels differently. With her dreams and Lathan's abilities, the pair race to discover the true identity of serial killer while also dealing with the threats to Evanee by those closest to her.
Lathan was initially introduced in Race the Darkness, the first book in the Fatal Dreams series, and I was looking forward to learning more about him. This book did not disappoint. If you've read the first book, you'll probably remember he was always visiting a bear totem but unable to realize why he was drawn to it. In this book you'll discover why.
Both characters have gone through horrific childhoods. Lathan spent his childhood with parents who thought he was crazy, shipping him in and out of psych wards. It was in one of these places where an attack caused him to lose most of his hearing. As an adult, his parents still seem uncomfortable around him and his mother doesn't seem to care about him. Evanee had a mother who didn't seem to care about her and a stepbrother who assaulted her. Yet, despite everything, she does whatever she needs to do to get by. She even finally gets the courage to ask The Thing in her dream why she was experiencing the things she was.
I'm not special.
Oh, but you are. Only those who've had their power stolen can truly understand the supreme importance of ensuring a balance between good and evil. Sacred are the wounded, for they shall balance the earth.
I found this book to be darker than the first one. There's mentions of rape, attempted rape, and a vivid description of how the murderer was planning on killing one of his victims. If these are triggers for you, you may want to stay away from this book.
Isleen and Xander from Race the Darkness make a couple of appearances in this one. While it's not necessary to have read that book before reading this one, you may want to because it's where Lathan is first introduced. There are also references to Isleen and Xander's abilities that are detailed more in that book.
If you enjoy dark paranormal reads, I highly recommend this one. I've enjoyed both books in this series, and I can't wait to see what the author comes up with next.
Book Info:

Publication: December 6, 2016 | Sourcebooks Casablanca | Fatal Dreams #2
You can't hide your secrets from Lathan Montgomery—he can read your darkest memories. And while his special abilities are invaluable in the FBI's hunt for a serial killer, he has no way to avoid the pain that brings him. Until he is drawn to courageous, down-on-her-luck Evanee Brown and finds himself able to offer her something he's never offered another human being: himself.
Nightmares are nothing new to Evanee Brown. But once she meets Lathan, they plummet into the realm of the macabre. Murder victims are reaching from beyond the grave to give Evanee evidence that could help Lathan bring a terrifying killer to justice. Together, they could forge an indomitable partnership to thwart violence, abuse, and death—if they survive the forces that seek to tear them apart.