In Hunted by Marissa Garner, Amber Jollett is tired of running, and so she should be after two years, of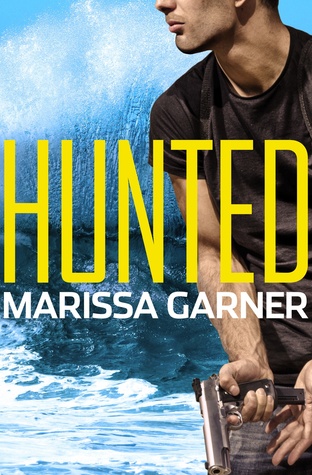 trying to stay ahead of a stalker. Meeting her handsome neighbor, FBI agent Ben Alfren, seems like a dream come true. As he may just be the one man that can help keep her safe, if she's willing to trust him with her secrets. However, her stalker isn't the only problem she has to worry about. It seems the FBI need her help with a case.
After such a promising start with the prologue, and discovering how the bad guys were targeting the women for the human trafficking ring, this book lost my attention for a little bit, until the heroine manages to disentangle herself from a moment of stupidity. Then from chapter three to the end, it was fast-paced and engaging. Even though, it was predictable at times such as the case Ben is assigned being related to Amber possibly losing her job.
"You jerk. You knew it was me?"
Ben's brain needed a second to recover from lust overload before he could answer. He cleared his throat and grinned. "Damn right. You think I'd kiss a complete stranger like that?"
As for the dialogue, it flowed really well and I enjoyed the moments when Ben and Amber bantered. Especially when Amber was trying her best to stay under the radar, and the hero managed to figure out the truth. Yet, the dialogue was also intense due to the case, Amber's back story and the final plot twist, concerning Amber's boss, which completely surprised me. The woman seemed so nice.
I enjoyed both characters, although Amber did frustrate me at times. She's trying to stay one step ahead of her stalker, and yet – it was almost as if – Ben's lectures on her safety go in one ear and out the other. However, in saying that, she's stubborn and resourceful. No way is she going to let someone get the best of her if there's a way she can protect herself. Those two traits also come in handy when she decides to do some investigative work on her own, because she loves her job and doesn't want to lose it.
"I've taken self-defense classes," she explained.
"I could tell. Doubt if Gary will be walking completely vertical for a while."
She grinned. "It'll be even better if he can't father children. Best to keep his type out of the gene pool."
While the hero, he's smart and tenacious when it comes to his job as well as Amber's safety. He goes above and beyond the call of duty to solve his case, even using outside help if he feels it's necessary. He's also very protective of Amber from the moment he begins to figure out what she might be hiding, and when she finally confesses everything he becomes even more so. His lectures on her safety were endearing, because he doesn't want her to continue living in fear.
The sex scenes were hot and did justice to this couple's intense chemistry, which is there from the moment they meet. Amber trusts Ben, even though she shouldn't after everything she's been through with her ex. Yet, it seems – for the first time in a long time — she's found someone that will do all in their power to help her.
In the end, this was a good book, although I was little bit disappointed by the way the author wrapped this story up, as the ending felt more like a happy-for-now than a happy ever after. I would recommend Hunted by Marissa Garner, if you enjoy romantic suspense stories.

Book Info:

Publication: December 8th, 2015 | Forever Yours | FBI Heat #1
For San Diego's elite FBI agents, risking their lives is standard procedure when it comes to capturing the city's most dangerous criminals-but falling in love is the greatest risk of all.
Catching bad guys in San Diego's underworld isn't just FBI Special Agent Ben Alfren's job, it's his life. He doesn't have time for a serious relationship, doesn't want one either. So when he meets his sexy new neighbor, Amber Jollett, he has nothing more in mind than unwinding with a glass of wine, a romantic walk on the beach…and maybe a hot fling.
But Amber is more than he bargained for. Her job as a nurse has brought her face-to-face with women caught in a human trafficking ring, women she's determined to help. As Ben and Amber plot to rescue the women, the attraction between them flares into passion. But they'll learn that in this dangerous game of cat and mouse, real love can save – or doom – them . . .