In Hurricane (Cutter Cay #5) by Cherry Adair, When salvage expert Rydell Case was having his new three-tier yacht built, he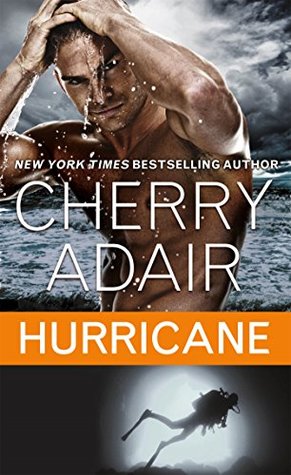 envisioned himself, his wife Addison, and their crew having exciting adventures while furthering his family's business. But then his life completely fell apart a year ago. Ry still isn't sure why he and Addy divorced after all communication stopped unexpectedly between them. Then losing Tesoro Mio to her and having his own ship the Sea Dragon hijacked, as well as receiving utterly tragic news, Ry is barely hanging on emotionally and financially. So when he has the opportunity to save his business and better yet, bring Addy back into his life, he'll do whatever it takes to make it all happen.
'He wanted Addy to be happy again and *he* wanted to be the reason for their happiness… All the damn treasure maps and ocean charts in the world wouldn't help him with this one. He'd already found the only treasure that mattered. He just had to figure out how to reclaim her.'
Living on Tesoro Mio is bittersweet for Addison. Seeing all the personal touches Ry made in the ship's design and the outcome of their planning leaves her feeling lost and empty. Addy never thought Ry would step foot on the yacht again while she was on board. So when she finds out that he has basically commandeered the ship, she's livid. Being so close to her ex-husband brings back all the hurt and pain she's gone through over the past year. But it also brings back the desire she's felt for Ry since day one. With the new man in her life, Prince Naveen pressuring her to marry him, her mother meddling as always, a dangerous trek to take across the ocean, and her feelings for her ex plaguing her, Addy has some important decisions to make quickly.
'Addison had never felt as safe and loved as when she'd been in Rydell's arms. And never so scared and lonely as when their divorce had become final.'
Hurricane was pure drama on the high seas in Cherry Adair's latest installment in the Cutter Cay series. Just when you thought the situation could get any more explosive and the emotions any more tangled up, we followed along with Ry and Addy on their heartbreaking journey.
"…I'd fight for you like"–he drew a deep breath–"like my goddamn life depended on it."
She closed her eyes as if he'd struck her, and the color left her cheeks. With words that were barely a whisper, she looked at him with pain-filled eyes. "But you didn't."
All right, so I have to be honest. I really do enjoy Cherry Adair's suspenseful stories. They're inventive and fast-paced and the larger than life characters jump off the pages. However for me this really, really started off on the wrong foot with our heroine Addison (Addy). At first she came across as a spoiled fashionista who was rather cool and uncaring. And after a miscommunication of epic proportions with our hero, her then husband Rydell (Ry), I felt like Addy gave up way, *way* too quickly on what they had together. The fact that she turned to another man for comfort pushed me even further into the "nope" category for her. BUT, thankfully she did mostly redeem herself by the end of the book. Especially once the truth about the gut-wrenching incident that took place in Ry and Addy's lives was fully explained. Then my heart went out to both of them and I could see why there was such anger and distance between them.
Hurricane can be read as a standalone or as part of the series and will work well either way. But I think if you've read any of the other books and know the dynamic between Ry and the Cutters, then this will give new insight into why Ry has made the choices he has over the years. I loved getting to know him and to see his POV after all the badmouthing the Cutters have done. And I ended up liking him a whole lot. Talk about a guy who had the weight of the world on his shoulders–and had since he was a teenager. Ry was a tormented soul but he kept on plugging away in his life and in the family salvage business. And I think (hope) readers will admire his tenacity and positive outlook as much as I did. He's probably my favorite hero in the series so far.
Between the exciting fight/action scenes, duplicitous characters, and a mountain of hurt feelings to overcome, Hurricane was an intense second chance romance that rocked our hero and heroine to their very core before they could even begin to hope for a HEA.

Book Info:

Publication: April 4th 2017 | St. Martin's Paperbacks | Cutter Cay #5
Rydell Case's ship is his home, his heart, and his reason for being. After his ex-wife left him—taking his brand-new megayacht, Tesoro Mio with her—she sailed off with a royal billionaire and out of his life forever. Now Ry spends his days searching for treasure—until his ship is hijacked. With the prospect of his salvage business tanking, he needs both the ship and his ex back—if only she didn't despise him more than any man on earth. . .
When Addison D'Marco boards Tesoro Mio to find her ex-husband in her cabin, she's furious. Ry is more handsome, more annoying, and more determined than ever. Addy can't believe he has the nerve to demand the ship back after the way he broke her heart. With her fiancé about to board, she doesn't want Ry back in her life to ignite painful memories and never- forgotten desires. But could it be that, amid troubled waters, Addy and Ry can salvage what they once had and have a second chance at love. . .or does fate have something else in store?