I Knew You Were Trouble by Soraya Lane: Nate knows Faith, his best friend's little sister,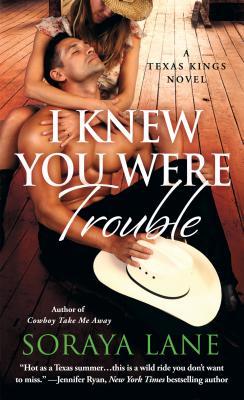 is off limits, no matter how much he desires her. But when she lands on his doorstep after trouble asking him for his housekeeper job opening, he can't say no, and he finds it harder and harder to resist her and the intimacy developing.
Faith has always had a crush on Nate, the guy who loves 'em and leaves 'em often, and she's deciding it's her turn for fun. After a relationship gone bad and future plans to move to New York, she knows she wants only fun, and so does Nate.
But living together and finally opening the door to the person they've always wanted leads to a lot more than fun. But neither Nate nor Faith believe they can commit, not when it means the possibility of losing their love, or of sacrificing themselves for their love.
"Then what?" she asked. "What should I be scared of? You've never done anything to make me think you'd hurt me."
Nate gritted his teeth, fisted his palms under the table. "Don't push me, Faith, because if I have you in my arms for even a second, I might never let you go."
I Knew You Were Trouble is fun and flirty. These two want each other real bad the entire time, and I just love it. They swing easily from flirtation to the deeper talks, completely at ease with one another. I liked seeing them power through their various barriers, but I can't say it went deep for me. It was a fun story, but emotionally static for me.
I really liked Nate's characters. He was just straight up man, the true patriarch of his family, after his grandfather, and all around good and likable. Also, I do love a protective hero. Faith, too, I enjoyed. She was definitely a good match for Nate with her ambition. They both know who they are and what they want out of life.
The third in the series, it can be read as a standalone. But I know I want to read the other two in the series after seeing their happily ever afters in I Knew You Were Trouble. For those who love a Texan man and some good flirtation, I recommend I Knew You Were Trouble.
Book Info:

Publication: June 28, 2016 | St. Martin's Paperbacks | Texas Kings #3
WILD AT HEART
Faith Mendes needs to get her life in order and get a job–yesterday. Thankfully, the live-in house-keeper position at the King brothers' ranch is up for grabs. Problem is, she'd be working with her old childhood crush, Nate King. He's sexy, wealthy, and his Texas-sized charms are legendary…and, clearly, impossible to resist.
Nate never thought twice about his best friend's little sister. Back then, Faith was off-limits. But now that she's all grown up, Nate's whole world has turned upside-down. Razor-sharp, down-to-earth, and hotter-than-heck, Faith is everything Nate has ever dreamed of in a woman…and maybe even in a wife. But Faith has loved and lost enough already to risk it all on another known bad-boy. How can Nate convince her that he is the real deal–and that he's ready to rein it in and never look back?