I Need You Tonight by Stina Lindenblatt: On a short break from touring, Mason is called by a close friend, one who saved him from a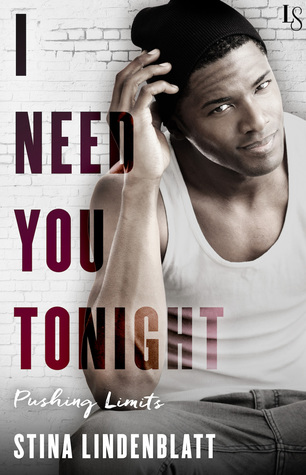 suicide attempt caused by his troubles with gambling, to check on his sister. Mason intends a short visit, but a few days in town with Nicole and he still doesn't want to leave her. Instead, he invites her on tour as their social media manager while her store if rebuilt by her business partner after it burned down.
Nicole has a goal. Find a stable man, one wholly unlike her gambling addict of a father. Although Mason has tattoos, is a drummer in a rock band, and so doesn't much the man she wants, she can't help but begin falling for a bit. But when she finds out he has a gambling problem after relapsing, that is her limit.
Mason is lost in his addiction once more, but his heart pulls him to Nicole and he knows he has to get back on the wagon if he's ever going to be successful or win her back.
I really dislike addict heroes. Particularly if the addiction comes back and he falls down that pit. I don't feel by the end Mason is past it or working on it for the right reasons. I don't feel positive about their future and overall it's too negative for me.
Beyond the addiction, I do like them together. They fit well and they're fun. Most of their romance does feel centered around their passion in the bedroom and I would have liked a deeper connection, especially because they are dealing with serious issues with Mason and her dad who also had a gambling addiction.
I Need You Tonight can be read as a standalone, but to get a better sense of the community and background it would be good to read the prior novels in the series. For those who want the darker conflict and a redemption I recommend this romance.
Book Info:

Publication: July 11, 2017 | Loveswept | Pushing Limits #3
Old habits die hard. But in this sexy, heartwarming romance, a musician who's addicted to the temptations of the road falls for a good girl who makes him want to clean up his act.
Mason Dell's band, Pushing Limits, is a sensation, and he's having a blast on their biggest tour yet. Then he gets a call from his best friend, who's in the Navy, asking him to find out why his sister isn't answering her phone. The dude once saved Mason's life from a suicide attempt related to a gambling problem—so the two-and-a-half hour drive from L.A. to her small town is nothing.
What he finds is a sweet, successful boutique owner who's too busy to notice when her phone dies. Nicole McCormick has nothing better to do than work. She's bored of all the men she's been dating: stable, career-oriented guys who are nothing like her destructive father. Mason's is a breath of fresh bad-boy air. Their sexual connection is explosive, and with her shop undergoing renovations, Nicole even joins Pushing Limits on the road. But when Mason falls off the wagon, that's one path she swore she'd never go down again.
While Nicole picks up her broken heart and heads home, Mason misses her like crazy. Although he wants to forge a future with her, he just doesn't know how to leave the past behind. But for love, it's time to learn.