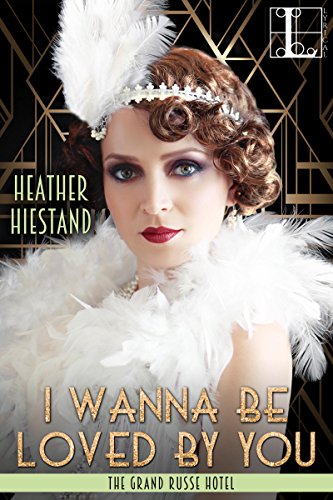 In I Wanna be Loved by You (The Grand Russe Hotel #2) by Heather Hiestand, British Secret Intelligence Agent, Les Drake, works best alone, but with his latest case he finds he's going to need someone like Sadie Loudon to help him uncover the information he needs to take down his targets. In the beginning, seducing Sadie seems like a good idea, but the more time he spends with her, the more he finds himself falling in love. But with the assignment he's undertaking comes danger, and Les finds himself less willing to risk her life for the good of his country. The question is – will he be able to protect her when the time comes?

"You'd look lovely in it."
She laughed. "Listen to us. A traveling salesman and a chambermaid wasting time over a photograph of a fur coat. As if either of us will ever see such a thing."
"You never know. You're much prettier than the model."
"I am?" She dimpled.
"Of course. I've always preferred blondes to brunettes anyway."
Although I haven't read the first book of this series, I found this could easily be read as a stand-alone. This story is set in the 1920's and Sadie's dreams are big, but meeting Les turns those dreams into something more, if only she can figure out the secret that he's keeping from her. The way this story started with what happens to Sadie and the way she initially meets Les. He has to choose whether to help her or do his job. Does he make the right choice? How does Sadie react to the choice he does make? When they come face-to-face for the second time will he treat her any better?
As for the dialogue, I loved the way this story developed. The danger and the action is intense and kept me wondering how Sadie was going to react once she learned the truth about Les and the lies he's keeping. Will she accept his deception because he did the things he does for the good of his country? Throughout, I felt sorry for Les because he was between a rock and a hard place – so to speak. He's loyal to his boss, and yet, he's beginning to develop feelings for Sadie. How can he continue to lie to her? What will he do to protect her? Will he go against what his boss asks him to do?
At the beginning, Sadie is a tad naïve and doesn't have much experience with men. She's lived a sheltered life and is so young, and yet, she really proves she can take care of herself when it comes to the bad men of the world. Indeed, she's a fighter, especially because of what she does for Les and how quick she is to act in the moments when it seems she's in danger. Also, I could understand why she would have trust issues when there were things that didn't add up when it came to Les and what he wanted for her. Why was he pushing so hard for her to keep working?
"Are you going to bring her in, attempt to recruit her?"
"For now, keep her close. I don't have the budget to pay her. She isn't going anywhere, right? I haven't located a ring for you yet. Hopefully by Tuesday."
"I'll continue to court her. I haven't had to propose, just look wan."
Overall, this was a good book where the plot entertained me with everything Les and Sadie have to overcome to achieve their happy ever after. The danger and the action set the fast-pace of this story, but there were moments where Sadie annoyed me. Why couldn't she have the best of both worlds – a career and a life with Les? Honestly, I thought Les was doing the right thing when he encouraged her to work, even if he did have ulterior motives. Moreover, the way this story ended had me liking the hero even more, because there was no way he was going to let Sadie get away. They belonged together and the growing relationship illustrates that. Even when it was making me wonder how could Les resist Sadie as long as he did? But what I liked most about the ending was the direction Sadie decided to go when it came to her career. She's going to be good at what she's decided to do, especially with Les at her side. I would recommend I Wanna be Loved by You by Heather Hiestand, if you enjoy historical romance with a good dose of suspense or the sexy protector trope in a 1920's setting.
Book Info:

 February 14th, 2017 | Lyrical Press | The Grand Russe Hotel #2
For a young woman swept into international adventure, romance can't be far behind…
The 1920s are in full swing when Sadie Loudon leaves her grandfather's stodgy vicarage, and she dreams of the glamour and excitement she's seen on the silver screen. But before she even begins work at the storied Grand Russe Hotel, she is ushered into London's glittering nightlife by a handsome young businessman intent on introducing her to the pleasures available to a Bright Young Thing. Is it a fleeting romance…or something even more intriguing?
Les Drake is on the lookout for Bolsheviks when he encounters sweet, sexy Sadie. A British Secret Intelligence agent, Les has more experience with the seedy underside of the city than with innocent chambermaids, but he can't deny that Sadie tempts him. Using her as part of his cover seems like a brilliant plan until the danger of his assignment threatens what has suddenly become a love he can't bear to lose…